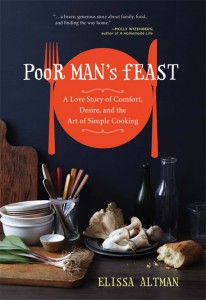 By Amanda Bloom
Originally published in The Mercurial.
Elissa Altman's first book, Poor Man's Feast, reads like a good, hearty meal – by the time the last page is turned, you feel as though you know Altman intimately, that you've sat at her table countless times, filling up with fine food and colorful stories.  Feast, part memoir and part cookbook, begins in the 1980s with Altman working at the upscale grocery Dean & DeLuca in SoHo, a neighborhood where, as Altman writes, "there was money everywhere, and there was food, and art, and drugs."  Notables such as David Lynch, Isabella Rosellini, and Kyle McLachlan were regulars, along with Richard, a terrier with a hankering for candied violets.
It was at Dean & DeLuca that Altman, now 49, bought her first set of timbale molds, which aid in creating tall and fancy dishes one might order at a French restaurant, and it was also there, amidst those candied violets, larding needles, and Italian salt mills, where her passion for cooking ripened, inspiring her to enroll in evening classes at Peter Kump's Cooking School.  (Kump established the James Beard Foundation, a non-profit promoting the culinary arts in honor of the late chef and food writer, with Julia Child in 1985, and Altman would go on to win the 2012 James Beard Award for Individual Food Blog for PoorMansFeast.com, which she launched in 2008.)
But Feast, available in hardcover on March 5, really begins much earlier than the 80s, and the book is really comprised of two memoirs – Altman's and Susan Turner's, a pair who are now married.  Their stories begin in childhood, at holiday parties with eccentric family members, dining on cheese-on-a-Ritz-with-a-dollop-of-ketchup hors d'oeuvres, or at La Grenouille for subversive father-daughter luncheons, below the radar of a thin, famous, diet-conscious mother.  The reader is offered a culinary, family history of both Altman and Susan, histories that roll out and combine like ingredients in dough as they connect online for the first time, have their first date at a Polish kitchen in the East Village, and begin spending weekends together three hours from the city at Susan's home in Harwinton, Connecticut.
As Altman and Susan get to know each other, feed each other, and fall for one another, the age-old nature of food and dining emerges; Altman shows how love can change our relationship with food, and that the act of making food and feeding our friends and family is really, at its core, all about love, whether the meal be a shared crust of bread swathed in stinky cheese, braised lamb shanks, or a fennel-roasted poussin made just for one.  With a healthy measure of self-deprecation, Altman writes of her tall and elaborate food obsession giving way to an appreciation of simpler cooking and genuine nourishment.  In a phone interview a few days before Feast's publishing date, Altman, who now lives in Newtown, explained her current food philosophy:
"Real food, smaller portions, in convivial settings, with people you love, and eaten without the addition of digital implements like iPhones and iPads nearby."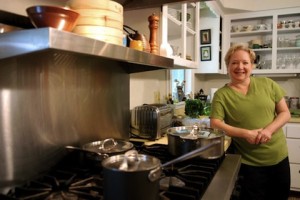 Eric's Marinara Sauce (from a coworker at Dean & DeLuca, and incredibly delicious; I made this dish along with the Onion Panade, or "onion soup without the soup," which Altman and Susan made for their first Christmas together, snowed in), Poached Asparagus with Prosciutto and Duck Eggs, and Galumpi (a.k.a. Stuffed Cabbage) are among the 27 recipes included in the book, and each cap their respective chapters as a photograph might introduce a character in a historical biography.  With its comedy, tenderness, and penchant for the delicious, Feast is a book that makes your heart hungry, a book that inspires your kitchen behavior, causing you to schedule a dinner party for the friends you've been missing.
Altman, whose favorite Connecticut restaurants include Community Table in Washington and La Zingara in Bethel, still spends part of the time working in New York City as Editor-at-Large for Rodale Books, a publisher specializing in health, wellness, and cookbooks.  She is also a freelance writer, appearing in Saveur, The New York Times, and The Huffington Post, and is working on her second book, which tells of a time when she tried to go vegan.
"It wound up with having 150 pounds of pork in my downstairs freezer," she said.
Visit poormansfeast.com to view Altman's tour schedule, to order a copy of Poor Man's Feast, and to get a taste of her blog.