It's the most wonderful time of the year again, where we all run around like decapitated chickens trying to find the perfect gifts for our family and friends.  Don't know where to start?  Check out these unique and often local gift suggestions from Vanessa, Lisa, and Jessie:
Vanessa
Wolf Conservation Center in South Salem, NY
Last year I surprised my husband with a trip to the Wolf Conservation Center in South Salem, NY. All he knew was to dress warm and bring a flashlight. I'm glad he trusted me. I can't imagine what he was thinking as I drove all the way up High Ridge Road through Pound Ridge and into South Salem but when I finally pulled into the long steep driveway and he saw the sign I could hear the relief in his voice.
We walked up the steep hill (the website warned it was steep) and into an oversized backyard shed. There was wine and cheese (to which he said "cool") and we took a seat facing a TV screen. What followed was an hour long presentation about the plight of wolves, like a private screening of a documentary but you can ask questions at the end.
Then came the headliners. The wolves. We walked up another hill to find three ambassador wolves safely behind a chain link fence. There are several wolves at the center but only four are allowed to be seen by the public; the others are kept in a separate, larger enclosure. The idea being to keep them wild so that one day they may be released. The ambassador wolves look like lanky, overgrown sled dogs. They played with each other and caught treats and, while it was fucking freezing outside, everyone was enthralled by them. My husband shook with every wind shift but the huge smile on his face warmed my heart.  Hey, I told him to dress warm.
After that we went up yet another hill to meet the oldest of the ambassador wolves. Atka. Atka was an old pro when it came to putting on a show for the people. We laughed at how much he reminded us of our own dogs. He knew how to work it. He even ate a treat from our hosts hand.
After that we went back to the shed and bought a few things from the gift shop. The whole night was about two hours, minus the time in the car, but it was probably the best gift I've ever given him.
Check out the website for a full program of events and for their gift shop.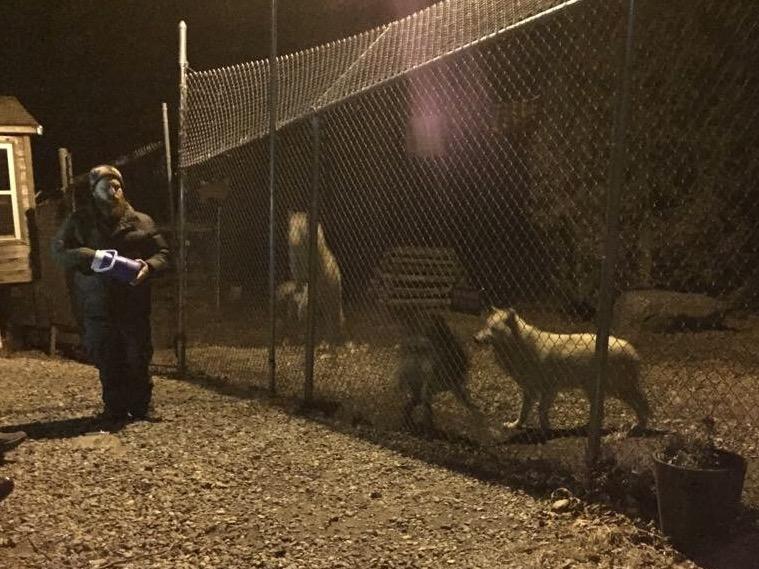 Teff Ethiopian Restaurant in Stamford
Seriously. The best food I've had in years. The menu has a variety of vegan and meat dishes, all of which arrive at your table on top of a giant gluten-free crepe called Injera. No utensils here (although I do ask for a fork) you're supposed to rip off a piece of the Injera and use it to scoop up the food and shovel it into your mouth. And shovel you will. I recommend the Ungadi Tibs (portobello mushrooms) prepared to a medium heat with the kale (called Gomen) and the Atkilt Gomen, a yummy mix of veggies prepared in a mild curry that really balances out the heat and makes it possible to keep shoveling more food in your mouth.
Haute Sauna isn't even open yet, but it's destined to be the hottest place in Stamford's Harbor Point, literally and figuratively. Their Facebook page states "Far infrared saunas treat a multitude of health conditions from chronic back and joint pain to fibromyalgia. They add in weight loss, rejuvenate skin, increase cardiovascular health and much more." A soft opening is planned for December 10. Go to their website and sign up for their mailing list.
Everyone wants a pink Himalayan salt lamp to get rid of the negative ions in their home. Why not sit in a room made completely of pink Himalayan salt? You can just go in and chill or sign up for fitness or yoga classes held in the salt. Gift certificates are available and a single salt session is only 45 bucks. I might be getting one for myself!
Lisa
I can't stand going to the mall because…there are people there.  When I was looking for a gift for my mom's birthday, I found this fun, unique option: Cat Lady Box!  Instead of giving her one present to open, why not get her a 3 month subscription of cat themed boxes to look forward to?  You can choose a 1 to 3 to an unlimited subscription that arrives on the first of the month with surprises for you (Cat Lady Box level) or for you AND your cat (Crazy Cat Lady Box level)  Each box has a theme for example: Black Cats, Meowloha, Mid Century Meowdern, Another Day in Paradise and Glamour Puss.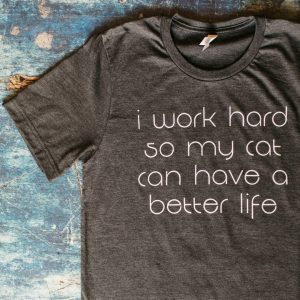 It comes with anything from quirky home decor, jewelry, shirts, umbrellas, tote bags, catnip toys, and a postcard featuring an artist.  These items are hand selected by the crew from craft stores, etsy, and they even partner with vendors to make unique items just for Cat Lady Box.  I also like that they regularly donate to charities and rescue organizations and have a positive, interactive Facebook page.  My mom and her cats can't wait each month for their next box!  And of course the box itself is a bonus for the cats too.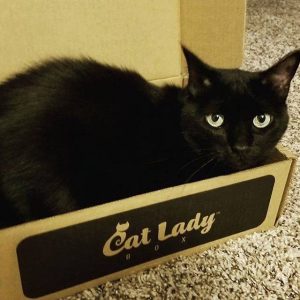 Jessie
This year, I got to bang out a lot of holiday shopping at my school's vendor fair.  The first booth that caught my eye was Michelle Small's Little Homestead Designs.  Small cuts, paints, and letters wooden signs and woodblock shelf-sitters — like those signs you buy at Michael's, but made with love and just as reasonably priced.  I picked up a holiday-themed one for the school library; the Stamford-based business takes custom orders as well.
Next I was off to the Lularoe table to get some leggings for the ladies in my family.  I know they'll fit and be a hit!  A lot of Lularoe sales take place in Facebook groups; I belong to Kerri Gentile's group and also Stacy Torpey's.  My final stop at the vendor fair was Goatboy Soaps — made in New Milford, CT from real goats!  Er, real goats' milk….  On the way home, I picked up a 4-pack Lock City Brewing's Launch IPA for a beer enthusiast on my list.  There are over 50 craft breweries in Connecticut, so it's easy to be the one who brings the good beer to Christmas.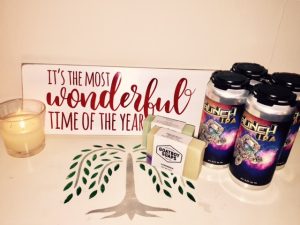 I'm doing some online shopping this year, too.  I always check out what Vanessa's Fine Art America page, where I found a couple spiral notebooks for some creative friends and family.  Her stunning nature photographs can be turned into everything from a coffee mug to a beach towel.    For wrapping paper that starts a conversation, I headed over to HandHewnFromMe2You — that shop has a lot of jewelry and funky home decor also.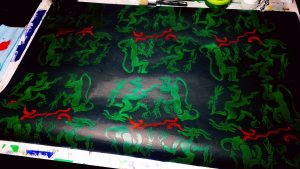 I did "fail" in being a complete local hipster, though, by purchasing a few gifts on the ubiquitous Amazon.  If you start from Smile.Amazon.com, you can choose a charity to benefit from your purchase at no additional cost to you.  My suggestion is Homes for the Brave of Bridgeport, CT, but there are thousands of other local and national charities to choose from.  And if you're a WFUV fan, you can begin your Amazon shopping by clicking the shopping cart on WFUV's site, and a portion of your purchase will go to support the station.  (However, I don't think it's possible to start from the WFUV shopping cart AND do the Amazon Smile program at the same time.  Oh well…)  Speaking of WFUV, a gift membership makes a great present for any music lover on your list!
Where do you find the coolest gifts?  Who are your favorite local retailers?  Let us know in the comments!
And for more from Alternative Control, find us on Facebook, Twitter, Instagram, Soundcloud, and bandcamp.