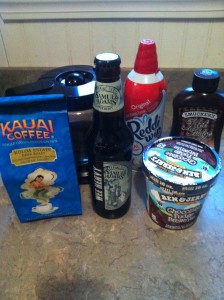 The other day, I poured half of my Wee Heavy into half a cup of coffee that was sitting in my fridge – and with the addition of two ice cubes, it was DELICIOUS.  So delicious, in fact, that I wondered how this concoction would taste if I added chocolate ice cream…
For those of you who aren't familiar with Sam Adam's Wee Heavy, it's a thick Scotch ale that's made in small batches.  At 10% ABV, 350 calories a serving, and $3 for a single at the liquor store, it's also one to drink in small batches.  If you enjoy Guinness, Thomas Hooker's Chocolate Stout, or Brooklyn Black Chocolate Stout, try Wee Heavy – with or without the following recipes.
Now, back to the matter at hand.  Today I gave the middle finger to the Sisyphean diet with which I torment myself, by creating a Wee Heavy Chocolate Coffee Milkshake.  Here's how I did it: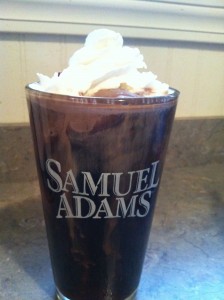 1 cup black coffee, chilled
1 12 oz. bottle of Sam Adam's Wee Heavy
1 scoop Ben and Jerry's Chocolate Fudge Brownie ice cream
Redi-Whip
Chocolate sauce
Pour the chilled coffee into a pint glass, then fill the glass almost to the top with beer.  Add a scoop of ice cream, then top with Redi-Whip and chocolate sauce.  Consume!
Well, anyone who has ever drunk an Irish car bomb knows what happens to cream and beer.  I think because of the coffee, the gross congealing process was slowed – but just in case, I rushed to drink my strange invention.  The ice cream was divine and the beer-soaked brownie chunks were oddly tasty; as for the beverage itself, I liked my original coffee-beer-and-ice-cubes better.
This gave me another great idea: since I still had half a beer left, why not try yet another beverage?  Next I made a Chocolate Wee Heavy Iced Coffee: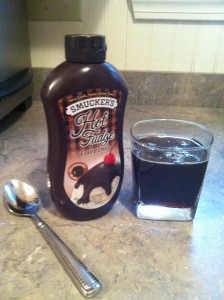 ½ cup black coffee, chilled
½ cup Wee Heavy
1 spoonful chocolate syrup
Ice
Stir the first three ingredients together in a rocks glass, add ice, and enjoy!
Well, after "enjoying" half of each of my creations, I felt a wee bit heavy.  I usually don't eat sweets, so the ice cream and chocolate syrup had me sweating, while the coffee at 3:30 in the afternoon made me feel really revved up.  (Jesus, when did I get this old?)  I set to work typing this article in a ball of energy, but I'm waiting for the inevitable crash.  I recommend trying the Wee Heavy Chocolate Coffee Milkshake, but without the whipped cream, and perhaps in a rocks-glass sized version instead of a pint. The Chocolate Wee Heavy Iced Coffee was pretty darn good, but I don't advise having one right after the milkshake!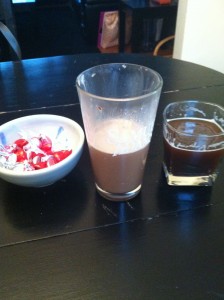 Find Wee Heavy at a liquor store near you — while it's still available!
What's your favorite hipster beer?  Share your stories with Alternative Control!