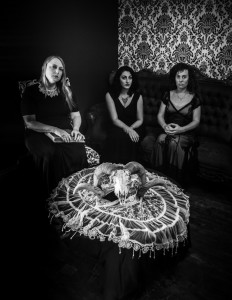 Eight Bells plays a hypnotic form of experimental/progressive loud rock that references everything from metal to kraut rock. The band, which features Melynda Jackson (guitar/vocals) and Haley Westeiner (bass/vocals) and new drummer Rae Amitay (Immortal Bird), is about to drop their excellent new album Landless, on February 12 through Battleground Records.  They are also embarking on a tour with Voivod and Vektor. — but before joining up with Voivod, the band will play a show with Vektor at the Outer Space/Spaceland Ballroom on February 5.
We thought this would be the perfect opportunity to send Jackson and Westeiner some questions and pick their minds about various subjects including their new album, their new drummer and their hometown of Portland, Oregon.
Below are their answers.
How is the new album Landless different from The Captain's Daughter? How is it similar?
Melynda Jackson: It is a continuation of themes. The concept behind The Captain's Daughter was a person lost at sea with no inkling about when or if landing would ever happen. It was about desolate seascapes as a metaphor the isolation most people feel at some point in their lives/journeys. A lone traveler, I suppose. Alienation and vastness are themes for both albums. Landless is about coming back and leaving the sea but experiencing a different type of isolation. Musically, we wanted more vocals for Landless as well as a bit more of a concise direction. It makes sense really – The first one was tossed around directionless – this one is a bit more focused and grounded.
Haley Westeiner: The material on Landless is more sophisticated since we worked together on it for a few years, at this point being five years in as a band as opposed to two; when The Captain's Daughter came out in 2013, we were still early in the process of finding our musical niche. I would say in the past three years that our songwriting and ability to collaborate have evolved so that the final output is more accessible and also more original.
What is the theme of the new album? How does it connect with the previous one, if it does?
MJ: We tried to have that illustrated with the cover of The Captain's Daughter was looking at the ocean from the ocean, but for Landless it is a viewpoint of a person on land looking at the ocean. It really is hard to describe something so emotional and in many ways transient – a list of descriptive words works best: loneliness, isolation, frustration, fear of the unknown, being lost, being found, time and how it is getting shorter….endings.
HW: For me, Landless does capture a certain zeitgeist about insecurity, whether it be around the environment and overpopulation, insecurity due to threat of homelessness or being displaced, or more metaphorically, like a feeling or idea doesn't hold any ground, is baseless in its existence, or is widely perceived as such. Also the tyranny of vastness. Too much of a good thing, the trappings of excess, eventually lead to isolation and ruin when extracted resources reach their finitude.
How does having Rae in the band affect its sound?
MJ: Honestly it has been a seamless transition for the most part, though we think of, and miss (former drummer) Chris (Van Huffel). He wrote the songs with us, and worked on them for a long time, believes in them. I have a very long relationship with him, and was actually pretty surprised to feel immediately comfortable with Rae.
HW: Rae has a consistent sense of tempo, and is a heavy hitter while still being complex and precise in how she writes. She has a lot of energy which is evident in her playing but also has some restraint and knows when to be more flashy and when to lay back a bit. She's a multi instrumentalist so I feel that affects the dynamics in how she approaches drums.
What made you decide she was the right person for the job? What does she bring to the table?
MJ: Really it was kind of a surprise. I knew Rae from Facebook and we have friends in common. I had followed her music and thought she was funny personality as well as a great drummer ( I stalked her youtube channel). I chatted to her and it came up in conversation that Eight Bells was having some tough times, and not sure about whether or not our drummer would be able to do any longer tours. I was feeling frustrated at not having yet having recorded the songs we had been working on and shopping our demo, as well as talking to as many people as possible about ways to get the album out. She volunteered for tours, and I was kind of like, oh cool Chicago is too far though, and filed it away. I was also talking with Matt Martinez (Landmine Marathon) about the same troubles. He passed the demo to David from Battleground Records who really loved it and offered to work with us – after hitting up a few other folks / labels and not really loving what was being offered we were pretty stoked about a very fair and beneficial deal from someone who actually cares about the music. I checked back in with Rae and she was all about it! She learned the demo, we flew her to Portland, practiced as a band 3 times then made the album. People almost died in the process but we did it. Rae is really an amazing musician and quick learner. The only bad thing I can say about her is that she eats all her studio snacks in like the first hour after arriving each day.
HW: We couldn't have asked for a better player. She has hella chops, is a heavy hitter, and has that amazing blend of street cred and classical training since she went to Berklee.
Does your hometown of Portland, Oregon affect your sound?
MJ: Of course I think of nature when you ask me this, but I would say that yes, where you are can affect your sound. We also have a pretty vibrant music scene here, and in true rebellious spirit, I choose not to sound like anyone else in it. I came here for the weather and cheaper rents that were here about 8 years ago.
HW: For me, Portland is the reason we are a band. Otherwise, I wouldn't have met Melynda and Chris and now Rae. Our city has been going through a lot of demographic and economic changes over the past several years, which are a mixed bag for us as artists. The reasons that Portland assembled us here in the first place don't really exist in the same way. People still move here, but most rockers of our ilk can no longer afford to live where we do, and I don't think we have access to the same kind of scene openness that existed here around a decade or more ago. Still comparably, Portland has an amazing music scene and I try not to take that too much for granted.
What are the plans for the band once the tour with Voivod is completed? Is there going to be any more touring? More recordings?
MJ: I would really like to write a new album, and plan west coast shows after we get back- after a 3 week or so nap.
HW: Melynda and I have also been working on creepy, quiet versions of some of the songs, as we've not had a live drummer to practice with for a bit, so you may get to hear some unplugged darkness.
And that's a wrap!  See Eight Bells when they roll through town, and  for future updates find them on Facebook and the web.
Upcoming tour dates:
Eight Bells:
Jan 28 – Portland, OR @ High Water Mark
Jan 29 – Sacramento, CA @ Starlite Lounge
Jan 30 – Glendale, CA @ Complex w/ Bosse-de-Nage, Wreck and Reference
Jan 31 – Phoenix, AZ @ Yucca Tap
Feb 4 – Worcester, MA @ Ralph's 
Feb 5 – Hamden, CT @ Outer Space Ballroom w/ Vektor
Voivod, Vektor, Eight Bells:
Feb 6 – Providence, RI @ Fete Ballroom
Feb 7 – New York, NY @ Gramercy Theatre
Feb 8 – Philadelphia, PA @ Underground Arts
Feb 9 – Morgantown, WV @ Mainstage
Feb 10 – Pittsburgh, PA @ Altar Bar
Feb 11 – Asbury Park, NJ @ Stone Pony
Feb 12 – Lancaster, PA @ Chameleon Club
Feb 13 – Washington, DC @ Black Cat
Feb 14 – Richmond, VA @ Strange Matter
Feb 16 – Raleigh, NC @ Kings
Feb 18 – Charlotte, NC @ Neighborhood Theatre
Feb 19 – Sanford, FL @ West End Trading Co.
Feb 20 – Ybor City, FL @ The Orpheum
Feb 21 – Atlanta, GA @ Masquerade
Feb 22 – Knoxville, TN @ The Concourse
Feb 23 – Newport, KY @ Southgate House Revival
Feb 24 – Chicago, IL @ The Abbey Pub
Feb 25 – Cudahy, WI @ The Metal Grill
Feb 26 – St Paul, MN @ The Amsterdam
Feb 27 – Omaha, NE @ Waiting Room
Feb 28 – St Louis, MO @ Firebird
Photo by Curran Reynolds, used courtesy of Curran Reynolds and Eight Bells.
For more from Alternative Control, find us on Facebook, Twitter, Instagram, Soundcloud, and bandcamp.