Since Empyrium's inception in 1994, the music of the German band has evolved from progressive doom / black metal to classical-influenced dark folk. With their sixth record, Über Den Sternen (translating as "Above The Stars"), they have "finally reconciled [their] vintage sound from the early days with the acoustic expression of the later Empyrium," according to Markus Stock. Stock (who on this album handles guitars, drums, bass, keyboard, dulcimer and some vocals) is one half of the band's core duo which also includes opera singer Thomas Helm (who also contributes keyboard and acoustic guitar here). On Über Den Sternen, Stock and Helm are also joined by guest musicians who add flute, violin, viola and cello to some parts. Les Discrets' Fursy Teyssier designed the simple but very effective album art which depicts a young man surrounded by trees and piercing the sky beyond the stars with a spear.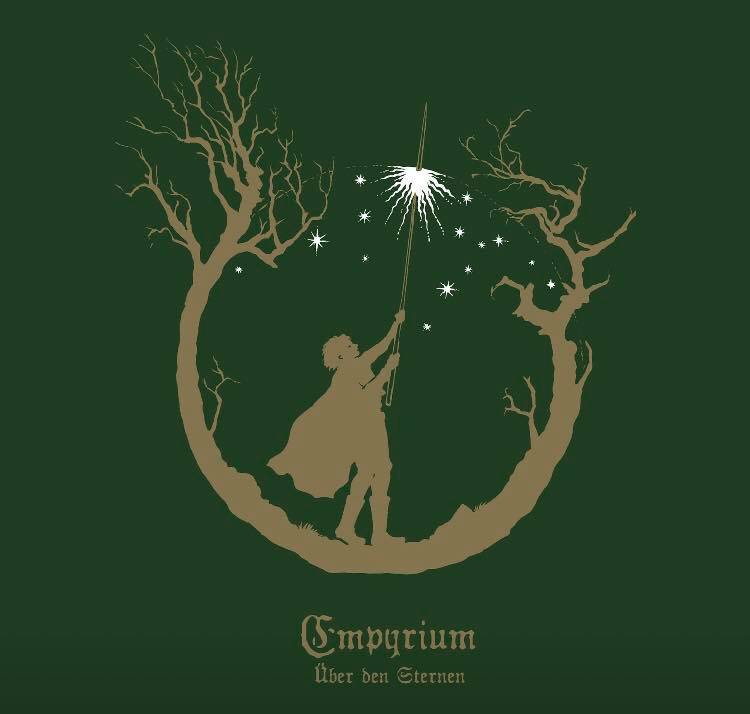 Before I share my thoughts on the music itself, it is worth my mentioning that I do have a personal connection with Empyrium, having released records on the same label and having supported them live at a church in Berlin several years ago (where they played a wonderful set with a lineup featuring Neige from Alcest, the aforementioned Teyssier, and Jochen Stock from Dornenreich, amongst others).
Musically, the record is mournful, evocative, and atmospheric throughout. Frequent dynamic changes follow shifts in style between sparse acoustic chamber music, riff-laden doom, and a lot of stages in between. Even in the stripped-back sections there is a sense of grandiosity and epicness which evokes the hills and forests depicted in the lyrics as though seen through the lens of an imaginary fantasy movie. The doom metal parts reach even higher peaks of magnificence. These heavy sections are often embellished by choir vocals, flutes, strings, and a particularly effective and distinctive dulcimer. This allows the fully-blown metal parts to sit cohesively and harmoniously with the more folky sections. The record is indeed often very heavy, but it is also refined, reverent and subtle even when the riffs are at their hugest and the vocal screams are at their most gut-wrenching.
The album works best when digested as a complete journey from start to finish, but there are several notable highlights. "The Three Flames Sapphire" builds majestically from bucolic acoustic guitar to bleak doom metal. "The Oaken Throne" somehow manages to create an atmosphere that is equal parts tribalistic dark folk and brooding heaviness. "Moonrise" recalls the more melodic side of Opeth as its unsettling layered acoustic guitar passages twist and weave. The 10-minute-plus title track (and the only song with entirely German lyrics) brings the record to a cathartic and sorrowful climax with Helm's richly emotive vocal melodies soaring over all-encompassing guitar noise, before everything dies back down to the acoustic coda. It is a strong, assured and emphatic ending to an album that it is eclectic yet cohesive; intense yet nuanced.
Existing fans of Empyrium will no doubt be more than pleased with Über Den Sternen. After all, it manages to take in the whole range of styles the band is known for and reassemble these into an epic, melancholic and evocative sonic journey. Those less accustomed to Empyrium and their ilk might find that initially there is a lot to take in — that the scale of this sound-world, the many intricate layers and the stylistic shifts don't all quite make sense on first listen. This is indeed the sort of record that takes a few listens to really get under the skin. It reveals its power steadily rather than in one quick burst. Those who allow themselves to really sink into its world over repeat listens will find that new rewards present themselves each time. Though the mood may be anguished and forlorn, there is a deeply satisfying meditative quality about this album that allows listeners to transcend their surroundings and be taken away to another universe – somewhere "above the stars", perhaps.
Über Den Sternen is out now via Prophecy Productions on special deluxe 48-page CD book, standard CD, double vinyl, and digital download formats. Purchase music and find Empyrium on the socials here.
---
For more from Alternative Control, find us on Facebook, Twitter, Instagram, Soundcloud, and bandcamp.  Plus, follow our brand new 2021 coverage playlist on Spotify! #nogarbagetracks
Enjoying our content? Support the site on Ko-fi and Patreon!