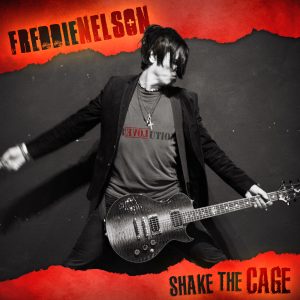 The new album from Pittsburgh rocker Freddie Nelson conjures up melancholy of 90s alternative ballads, with a dash of 70s and 80s hard rock guitar leads and vocal stylings.  Shake The Cage was released on July 7th, 2017.  "The record is called Shake The Cage," says Nelson, "because I feel that a lot of music has become one dimensional with tools such as pitch correction and formulated songwriting.  There is no substitute for hard work and honing your craft, and it's time to challenge mediocrity."
Ain't that the truth.  Nelson, who wrote and recorded the album United States with guitar virtuoso Paul Gilbert, puts his musicianship to work writing interesting pop that Christopher Baldwin recently noted is all too rare these days.  Shake The Cage is hook-heavy with great vocal harmonies — "Light" is one Queen-inspired example.
"Hey Doll" is album's single — I'm not sure the "teeth closeup" is working for  Nelson, but it's a catchy song.  Music likes this reminds me of driving up to The Meadows in Hartford back when it was still called The Meadows.
If you're looking for some fun, guitar-driven pop, check out Shake The Cage on Facebook, Soundcloud, Amazon, iTunes, and the web.
For more from Alternative Control, find us on Facebook, Twitter, Instagram, Soundcloud, and bandcamp.
This post was sponsored by Independent Music Promotions.  All opinions are our own.