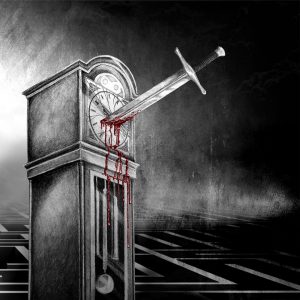 The End of Time isn't just an album, it's a contemporary rock journey.  Tracks alternate between a wise woman's narration and songs in a variety of musical genres, taking the listener on many unexpected twists and turns — which is fitting, as part of the album is about escaping a labyrinth.  In spite of the fantastical nature of this work, it examines distinctly modern ills from mass incarceration to texting and driving.
Speaking of which, check out the video for the title track….  Drummer, producer, and album mastermind Sam Fishman says of the subject matter, "The music video below is an illustration of the dangers of texting while driving. More specifically, it looks at the aftermath of a texting while driving tragedy. What if you were distracted by your phone and killed someone because of it? What if the person you killed began to haunt you in your dreams, reminding you of the grave mistake? Addiction to cell phones is a thing. Using contemporary musical forms to raise awareness for phone addiction is powerful and impactful. I welcome the opportunity to craft creative content that can make a difference."
The End of Time is a worthy listen for any rock fan who's willing to step outside of the box and contemplate tunes that have a greater scope than just getting to the next riff.  Fans of Rush, Steven Wilson, Porcupine Tree, Pink Floyd, and David Bowie will probably become fans of Sam Fishman with this one as well.  (Cue Neil Peart drum solo in the eleventh track, "Final Distance to the Clock.")  Stream The End of Time on Soundcloud and bandcamp, and find Fishman at the following links:
And for more from Alternative Control, find us on Facebook, Twitter, Instagram, and bandcamp.
This post was sponsored by Independent Music Promotions.  All opinions are our own.