Iceland's Sólstafir have for the past 25 years straddled genres including black metal, post-rock, and shoegaze. Singer and guitarist Aðalbjörn Tryggvason says he feels "privileged being able to mix all my favorite genres and get away with it." With Endless Twilight of Codependent Love, the band's seventh album, they don't merely "get away" with incorporating influences as diverse and unexpected as The Beatles, Kraftwerk, Darkthrone, Ennio Morricone, and Billy Corgan; instead they assimilate this patchwork of inspiration and create a work that is incredibly beautiful and uniquely idiosyncratic as well as absolutely cohesive.
Cathartic, mournful, and strangely uplifting, the whole album swells captivatingly with brink-of-tears emotion and seat-of-the-pants urgency. Aside from one English-language song, the record is sung entirely in Icelandic and is therefore unintelligible to me. Despite this, somehow the music and vocal performances communicate their messages perfectly using the universal human language of feeling.
Throughout the nine songs on Endless Twilight of Codependent Love, the sound encompasses scuzzy and raw black metal, tender and soulful art rock, celestial prog, and even Appalachian-tinged Spaghetti Western-inspired segments. Every section of the music jigsaws surprisingly well with the others around it even when the album takes unexpected stylistic turns, and every second of the record sounds like Sólstafir.
The music is best digested as a whole, but there are notable highlights. 10-minute opener "Akkeri" fuses haunting melodies with pain-laden vocals and brooding shoegaze. "Drýsill" juxtaposes a lonesome bluesy riff with a bleak wash of synth-infused dark rock and evocative vocal melodies and harmonies. "Her Fall From Grace" (the only English-language song) is a melancholy slow burn towards a beautifully abrasive scuzz bass-adorned riffy climax. The desperate and despairing "Dionysus" revisits Sólstafir's raw black metal roots. "Or" builds from a honky-tonk piano riff into a gigantic post-rock tidal wave of noise and emotion.
The album's production (handled by Birgir Jón Birgirsson and Tryggvason) is clear, crisp and punchy but also gives the feel of being in the same room as the band as they play live. The sonic interest interest comes from the band's arrangements of their songs rather than from any obvious post-production effects. The band's natural dynamics are allowed space to breathe, lending extra drama and weight to the changes as the pieces shift gear between noisier and more fragile passages. Tryggvason's expressive voice is laid bare so that its emotional messages are felt more directly rather than being obscured by too much processing.
The cover artwork for Endless Twilight of Codependent Love is notable not just because it is a striking and iconic classical-style portrait, but because of the picture's origin and what it represents. A watercolour painting from 1864 by German artist Johann Baptist Zwecker, The Lady of the Mountain depicts the female personification of Iceland. The original was recently rediscovered in a Welsh museum gallery, and when the band saw it they "had to use it. It's too beautiful," so recounts Tryggvason. He also mentions that it has a coincidental passing resemblance to the cover of The Smashing Pumpkins' classic Mellon Collie and the Infinite Sadness. The use of such a reverent portrait might confound some expectations, but its extravagance also serves to compliment the majestic, grandiose and magical aspects of the music.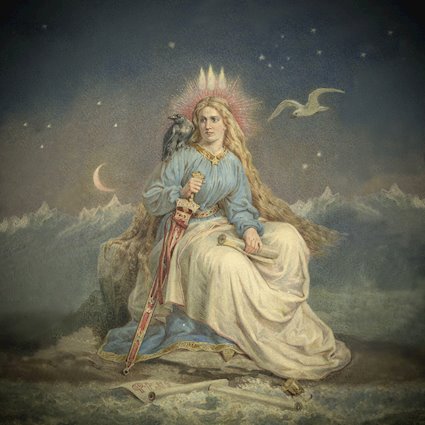 In Endless Twilight of Codependent Love, Sólstafir have created a record densely packed with emotive songwriting and unbounded in its approach to musical style. The album refuses to conform to expectations yet ultimately sounds like it was always meant to be. It is artful, it is expertly assembled, and it is progressive in the truest sense of the word. This is a deeply moving album which reveals further richness with every listen.
Endless Twilight of Codependent Love is released via Season of Mist on November 6th, 2020. Purchase the album here.
---
For more from Alternative Control, find us on Facebook, Twitter, Instagram, Soundcloud, and bandcamp. Plus, follow our 2020 coverage playlist on Spotify!
Enjoying our content? Support the site on Ko-fi and Patreon!