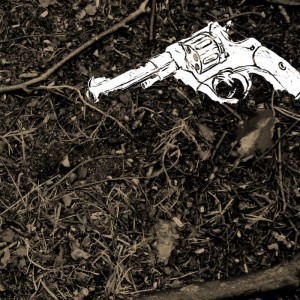 Can music sound like bare feet on a mossy path or waves up against a dock?  With their new album Smoke From the Well, Connecticut folkies Them Damn Hamiltons will have you feeling the damp and smelling the salt.
TDH has a modern take on folk music, but they never lose the threads of storytelling that connect them with their old-time roots.  "Eastern Sea," for instance, is a chantey-influenced ballad whose narrator plots to drown his unfaithful lover and feed her consort to the pigs — but when the drums kick in after the first verse, the song takes a turn for the new millennium.  Clever lyrics also put TDH solidly in the twenty-first century, or at least the twentieth.  Good examples are the "treasure chest" pun in "Eastern Sea" or the Dylan Thomas easter egg in "Wolves at the Door."
TDH doesn't lack for interesting instrumentation and arrangement.  Cello, mandolin, and banjo are part of the regular lineup in addition to guitar, bass, and percussion.  The songs are rich with vocal harmonies; Parker Hu usually takes the lead, but Dan Hamilton shines in songs like "As Long as the Ocean Rolls."  (In the interest of journalistic integrity, Hamilton and I had many good times playing in a bluegrass outfit called The Shoutbacks, and that song reminded me of some we used to play.)  Hu and Hamilton, who both play guitar, are joined by Jeff Chen on cello and mandolin, Mik Walker on bass, and Matt Futoma on percussion.  Hamilton plays mandolin and banjo as well.
Hand-printed CDs of Smoke From the Well are now available, just in time for TDH's performance at Swan Day, March 5th at Trinity on Main in New Britain.  Have a listen and grab a copy!  Digital downloads are also available via bandcamp.
For more from Alternative Control, find us on Facebook, Twitter, Instagram, Soundcloud, and bandcamp.