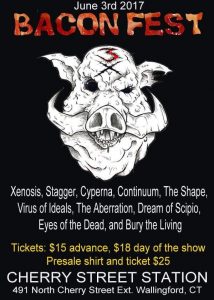 This Sunday, I sat down with Eric Iocca to talk about the third year of his big show, Bacon Fest.  The 2017 incarnation will be on Saturday, June 3rd at Cherry Street Station in Wallingford, CT.  Doors open at 2pm, with the cooking contest at 2:30 and bands starting at 3.  Two hundred pounds of bacon will be cooked throughout the day for crowd consumption.  This is the summer kick-off event for the Connecticut metal scene, so come stuff your face with bacon and your ears with brutality!
When did you book the date for Bacon Fest?
Last year!  We wanted to get it in early June before the big festivals and bands start going on the road.
So, third Bacon Fest…  What's going to be different about this one?
Less bands, at the request of Cherry Street — 14, 15 bands gets a little excessive and they kinda get murdered at the bar.  And I get murdered as well — even last year, I didn't get to really sit around and watch any of the bands.  I caught maybe one song from each band, and then I was just running back and forth all day and night.
What's the same about it?
Same about it?  Lots of heavy music, lots of bacon, good times had by all.
Tell me about the cooking contest.
Yeah you're in it, right?
Ummmm. I could be —
You should be.  We're gonna do 6 to 7 contestants, make whatever pops into your head, anything bacon-related and delicious.  We'll have two chef judges: Ross (Ragusa) and Bam from The Maddening Process, and then Knob from OFNR because he's hungry and he wants to be a judge.  […]  Winner takes all, $100 cash prize… The three criteria are taste, creativity, and presentation.  Pretty simple.
There was some stiff competition last year.
Yeah no doubt, Marrissa won last year.  She made some outrageous bourbon bacon cookie dough cupcake, it was really elaborate.  I didn't actually get to try one because I was running around like crazy, but from what everybody tells me they were really good.
Yeah I tried one — she deserved to win.
But Marrissa is out of state now, so everyone's got a chance now.  We don't have the ringer in this year.
We miss ya, Marrissa —
Yes we do —
But I'm gonna try to win this contest.
In your honor!
Well, tell me about the lineup.
Mostly local bands, the heaviest bands around: Cyperna, Eyes of the Dead, Xenosis, Virus of Ideals, Continuum, Dream of Scipio, Bury the Living, The Shape…  Then we've got Stagger from New Jersey and The Aberration from Vermont.  […]
I had actually never heard (Bury the Living) before — never worked with them, never heard a single note of their music — until recently, but I had already put them on the show.   Bam from The Maddening Process recommended them.  The band is made up of other members of The Maddening Process and Into The Coven.  As good as those two bands are on their own, if they got together and had a baby, then that baby would have to be pretty brutal — and it is!
Everybody's gonna get a 45 minute set and 15 minutes in between, so we'll have a lot of music and nice long breaks for everyone to get a drink….
How do you go about picking out a lineup for a big show that everybody wants to be on?
Well, there's bands that didn't get to play the first year, I put on the list for Year Two.  Then the bands that didn't get to play Year Two, I put on the list for this one.  A few of the other ones I just handpicked — The Shape, they're pulling the trilogy.  […]  They offered to close the show, and I was like, "Done."
Are you doing the indoor/outdoor stages?
Yeah.  With the timing, there will only be three or four outside bands.  If it rains, we'll just move everything inside and cut the set times back — and rush, which will suck.  But again, that's why we're doing it in June.  It doesn't really rain that much in June — it's worked twice now.
That's true.  Well it should be a fun time.  It's always a fun time.  This year will be my third Bacon Fest being there — for the first one I was a happy attendee, the second one Jimmy Junk Bird played, and this year I'm gonna win the cooking contest.  Do you hear that, people?
There you go.
I'm just gonna visualize it and it's gonna happen.
Speaking of visualizing to make things happen, Eric and Alternative Control are giving away a pair of Bacon Fest tickets!  Scroll down and follow the instructions on the widget.  Contest runs from 12:00 a.m. 5/10 to 12:00 a.m. 5/17.  Winner will be notified via email and needs to respond within 24 hours, or another winner will be chosen.  Winner must provide mailing address.
If you don't win our tickets, tune into OFNR on Tuesday May 30th for another chance to win.  And if you don't win those, you'll just have to order them for $15 in advance while they last, or pay $18 at the door on June 3rd.  See you there!
For more from Alternative Control, find us on Facebook, Twitter, Instagram, Soundcloud, and bandcamp.