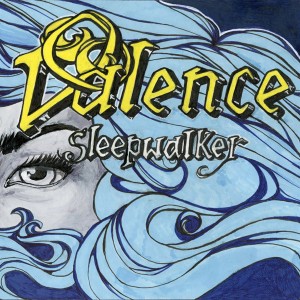 I've waited a long time for an awesome local progressive metal band to come my way. And stupid me, one has existed for at least the last 4 or 5 years in Larchmont, NY. I've only recently heard of Valence when I read Jessie May's review of their newest EP, Laser Baron a couple months ago. The glowing review she gave it – especially given the fact that Jessie has never really been a fan of prog music – intrigued me to say the least. If Jessie liked it, why the hell wouldn't I? Prog is most definitely my favorite music genre ever, so Valence shouldn't be a disappointment. If they are, then shame on them! Luckily for me, Valence came to Stamford a couple weeks ago and I had my chance to check them out.
Holy shit, I've never been as impressed with a local band as I was with Valence's performance. They smashed Fiddler's Green here in Stamford with a very intense, musically precise and thoroughly entertaining show. Even their stage presence was impressive. They managed to pull off a humorous assortment of funny facial expressions and head-banging motions while performing music that normally requires incredible concentration. Not only was it entertaining, but it showed that the band has a refreshing attitude towards their pretentious attributes. They don't take themselves TOO seriously, unlike many bands of their ilk. Everybody in the place had eyes forward when they played, and there were many mouths agape, including my own. If you haven't seen them live, do yourselves a fucking favor and go. And then you can quit your own band.
This review is for their first full-length album, Sleepwalker. It's an instrumental release, without a single boring moment to be had. The closest comparison I can make is the band Between the Buried and Me. Just imagine their music without the annoying emo parts and the oversaturation of metalcore breakdowns. That's not to say they're a carbon copy of the band, but you can definitely tell there's an influence. Sleepwalker takes you on a ride over a choppy sea of carnival-like jazz-fusion, fiery storms of mathematical thrash, power, and death metal riffing and gentler eye-of-the-storm moments of soft prog interludes. Expect many 180 degree turns in song structure, multiple time signature shifts and a whole heap of anthemic drama. It's exciting, engaging music that has absolutely nothing lyrical to say. And that's no fucking problem for me. Who needs words, when instrumentality can take you away to a more amorphous domain, filled with choose-your-ending types of adventures? That's what Sleepwalker has done for me, and my pompous prog sensibilities appreciate it.
As far as production, this is pretty much flawless. All the instruments come through perfectly, with an almost vintage kind of feel to the sound. It reminds me a little bit of early Mastodon production, such as in the Leviathan album. Sleepwalker is only about thirty-five minutes long, so it never overstays its welcome, because as classy as this music is, it would probably get a bit tiresome after the 45 minute mark. That's probably something Between the Buried and Me could learn. 75 minutes of BTBAM music? Shut the fuck up, we know you can play.
In conclusion, this could be my favorite local metal release ever. If you're the slightest bit interested in progressive music, pick this up. Then you can join me when Valence decides to come back to Connecticut and destroy us some more. Given the reaction they received at Fiddler's, I'm hoping that won't be too long. Unfortunately, I was dead sober when I saw them the last time. Next time, I'll be sure to vainly and poorly air-guitar along to "Winds of Zephyr" to the point where I'm actually able to flub up their performance with the authenticity of my douchery. However, given their talents, I highly doubt I will.      
Click here to see Valence's upcoming shows.