By Patrick Salerno of Grave Next Door
Tuesday, March 17th, 2020:
After a good night's rest in Little Rock, Arkansas, we were on our way to Texas. We have a show in Arlington Texas with Freedom Hawk.
As Kyler drove, I quickly made a flyer for the show on my phone to post on social media. We stopped for lunch at a sandwich shop; all the chairs were on the table and we were told we could not eat inside. We drove to a local park. I was just about to post the Freedom Hawk/Grave Next Door show, them I was notified on Messenger that Freedom Hawk was ending their tour because of cancelled dates and would not be playing Arlington with us. I literally was about to post the flyer on Instagram. Kyler drew up a different flyer with just Grave Next Door on the bill. Our contact at the venue informed us they were only allowed 50 people at the venue.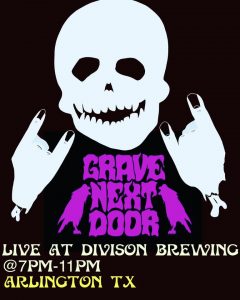 Once lunch was finished, we headed west towards Texas. A friend of mine informed me that the City of Arlington is holding a press conference tomorrow afternoon. Am I driving towards a cancellation?
We stop one hour outside of Arlington, TX  to get a hotel for the night. We drive restaurant to restaurant trying to find a place to eat inside. Finally, we find one. I'm periodically checking my phone for messages of cancelation. Before he went to sleep, Tony told me he didn't want to go home — he wants to keep touring. These last five days have been crazy. Our incentive to be out here is gone. One last show, one hour away. I'm trying to stay positive but I'm also a realist.
Stay tuned to Alternative Control this week to read more of Grave Next Door's adventures and check out their merch on bandcamp.  How have you been affected by the coronavirus?  Leave a comment.
For more from Alternative Control, find us on Facebook, Twitter, Instagram, Soundcloud, and bandcamp.