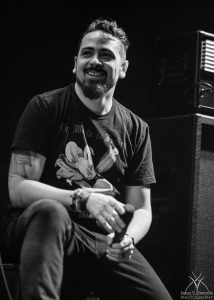 If you're looking for unbiased journalism, this is not it.  Ryan Early's band Apostasy has been active in the Connecticut metal scene for roughly as long as I've been paying attention and we've occasionally shared a lineup.  Now Early has started a group called the Connecticut Metal Coalition, of which I am a part.  But even as a "member," I wondered about this Connecticut Metal Coalition thing.  Is it some kind of  cool kids club?  (Where all the kids are in their 30s….)  Or like that death metal thing in New York where they had special vests? 
But rallying The Scene takes a lot more than just making a Facebook page and deciding you're a coalition.  Early also took it upon himself to organize a physical and digital compilation of Connecticut metal bands, as well as booking our first official event: a booth at the CT HorrorFest (9/14 at the Naugatuck Event Center).  I took our upcoming appearance at the HorrorFest as an opportunity to pick Early's brain about his latest efforts in The Scene…
What is the Connecticut Metal Coalition and why did you start it?
The CMC is intended to be an ever-evolving group of both established and up-and-coming local musicians with the common goal of promoting and advancing our scene as a whole entity. Most often, a band's promotional efforts are directed towards pushing themselves individually or maybe a specific show. To a scene outsider, hearing about one individual band may not be enough to pull you out to an event. Meeting a group of people with a unified goal and energy spanning multiple bands might create a more enticing image of our scene as a whole and the bands within it.
What do you hope to accomplish with the CMC Volume One compilation?
The compilation is mostly just a vehicle that we can use the promote the scene to newcomers. It's certainly not an unheard-of idea, but the goal was to put together an eclectic collection of songs from CT indie bands across all genres of metal. One thing I impressed upon everybody participating was that this compilation isn't intended to promote our newest songs to people within the scene already, but more to draw in new people that aren't familiar. It wasn't important that bands' songs were necessarily their heaviest or most recent, but rather a good representation of the band that one would show to a prospective new fan. It was also important to make the compilation available in as many mediums as possible. Not everybody even owns a CD player anymore, so digital distribution was a must!
Can you talk a little bit about what goes into putting together a compilation like this?
A lot of texting, moving around finances, and having a comprehensive checklist of what I need from everyone! Seriously though, this was the first time I've really done something like this, and I've definitely learned a bit for Volume Two down the road. When you're dealing with amateur independent bands, there's not a designated source for everything. With certain bands, I found myself going to one member for the music end and another for the business end. It definitely helped to stay organized. You also learn what each band wants to get out of a project like this, and it helps steer you to a product that satisfies everyone.
This is not your first rodeo in The Scene.  What shifts have you seen since Apostasy's inception in 2002?  What things have stayed the same?
To be fair, we ourselves have evolved a lot so it's hard to have a fixed perspective. We didn't really hit the current "scene" until around 2009, as prior to that we were underage and bouncing back and forth between shows at The Space and selling tickets for nu-metal shows at the Webster. I think the biggest (and most frustrating) change over the past few years, however, has been the dissolution of eager and active promoters in the area. The most fruitful times for us were when we'd book about half of our shows ourselves, and fill in the gaps at fresh venues with various promoters. Now, it's mostly up to us to get out and book everything ourselves. I'm sure some of it can be chalked up to being scene veterans, but it can be difficult to stay motivated for a hobby when you're doing 90% of the booking as well.
I often ask myself this question, and the answers vary depending on how last night's show went….  But what motivates you to continue playing music and being active in The Scene after all these years?
For me personally, Apostasy is definitely a labor of love. It's essentially a child that I've raised for more than half of my life. If you listened to a song we wrote in 2005 and compared it to a song we wrote in 2015, you'd never peg them for the same band. I think it's just being able to go out and do what I love and craft this into whatever works for us at the time. We have our share of member fluctuation (though we've been fortunate to have a steady lineup for six years), but we also have musicians willing to step in to fill vacancies for individual shows. It's ever-evolving, and that keeps it fresh. Even the music that individual members write come off as completely different genres, yet when we play it, it sounds like us.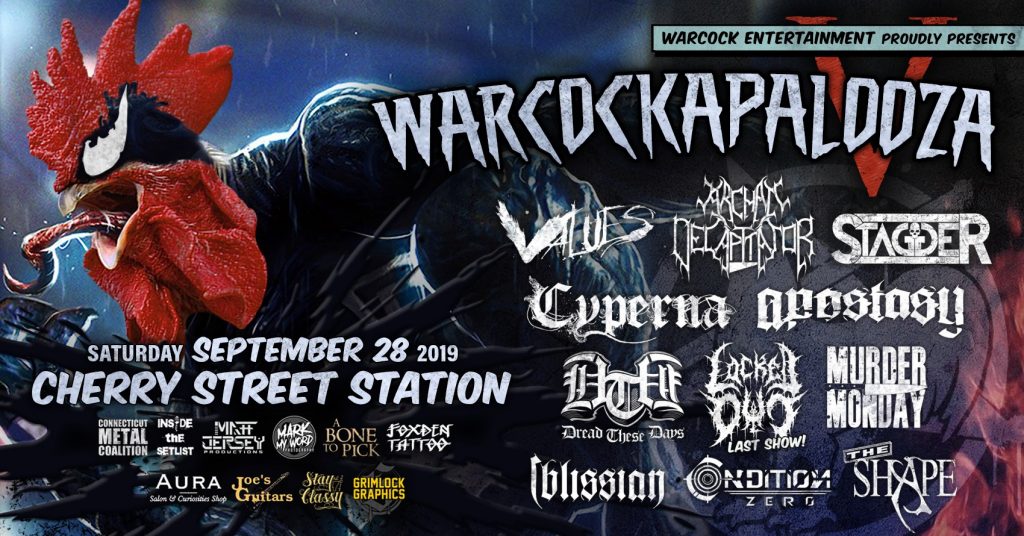 What is on deck for Apostasy in the next year or so?
One can never be sure haha. We're starting to write a little, but we never set out to write an album or an EP. We write when we have new ideas or we get tired of playing the same songs at every show. Often, we play songs out for a couple years before they're even recorded. I'd like to play a bit more, with a bit more variety as to where. A lot of that falls on my shoulders, but things slow down in the winter for everybody, so it should be a good time to get the ball rolling.
Back to the Connecticut Metal Coalition, we/they are making an debut appearance with a booth at the upcoming CT Horror Fest.  What can folks expect if they stop by the booth?
They can expect 8 dudes (in the Kel from Good Burger "he's a dude, she's a dude, we're all dudes" way) hanging out, talking with each other, eager to talk to new people about what we love and what they love. I want to come across as a family, and not that guy standing outside Toad's Place when the show ends, shoving photocopied flyers in your face silently while you file out. We'll have some freebies for your goodie bags, as well as some merch for sale, though I've also tried to impress upon people that the goal of this isn't for us to move t-shirts and make money. It's about meeting NEW people who are into metal and maybe have never given the local scene a chance.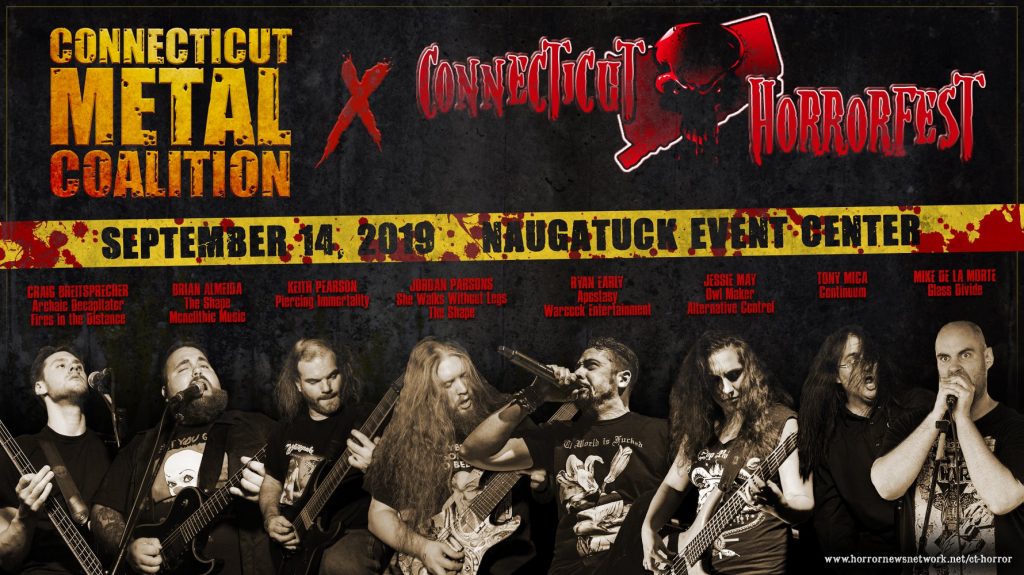 What else would you like to see CMC doing in the near-ish future?  What are your overall goals for this group?
I'd like for it to become a more open forum  for everyone to contribute ideas. I think I got the ball rolling with CT HorrorFest and the compilation, but I would like to try to hit as many avenues as possible. I only have so many ideas myself. I did have an idea for a cheap, printed zine with news, upcoming events, and maybe reviews that could be distributed at venues and shows. There isn't a lot of tangible, physical media anymore in the digital age, but there's always room for something outside the box.
Personally, I hope that the Connecticut Metal Coalition continues to grow, especially in women members, and that we do one day get special vests…  In fact, I may appoint myself the President of the Special Vest Committee!  Grab your free CD copy of Connecticut Metal Coalition Volume One at the CTHorrorFest this Saturday, 9/14!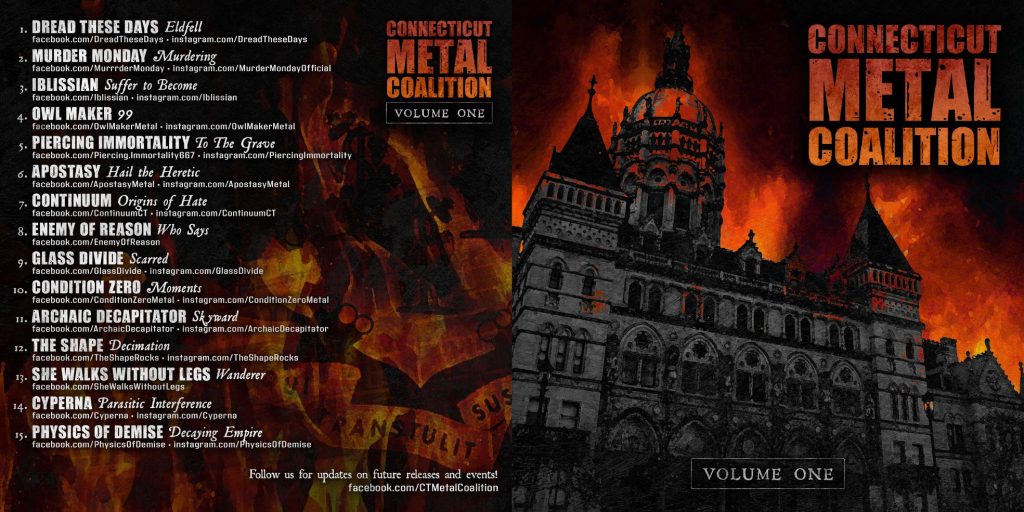 …And grab the compilation for free on bandcamp!
Follow the bands on Facebook!
Dread These Days • facebook.com/DreadTheseDays
Murder Monday • facebook.com/MurrrderMonday
Iblissian • facebook.com/Iblissian
Owl Maker • facebook.com/OwlMakerMetal
Piercing Immortality • facebook.com/Piercing.Immortality667
Apostasy • facebook.com/ApostasyMetal
Continuum • facebook.com/ContinuumCT
Enemy of Reason • facebook.com/EnemyOfReason
Glass Divide • facebook.com/GlassDivide
Condition Zero • facebook.com/ConditionZeroMetal
Archaic Decapitator • facebook.com/ArchaicDecapitator
The Shape • facebook.com/TheShapeRocks
She Walks Without Legs • facebook.com/SheWalksWithoutLegs
Cyperna • facebook.com/Cyperna
Physics of Demise • facebook.com/PhysicsOfDemise
Follow the Connecticut Metal Coalition on Facebook for updates on future events and releases! • facebook.com/CTMetalCoalition
Featured photo by Jason V. Mannello Photography, courtesy of Ryan Early.