Metal is often ignored by the mainstream media and sometimes belittled by those who can't see past the loud and seemingly unwelcoming surface of the music. In spite of this — or perhaps, because of it — the metal community has continued to thrive as a supportive and welcoming scene. In the past, though, there has perhaps been less tolerance and understanding of bands and artists that dare to step outside of an exclusively "heavy" ethos.
That seems to have changed somewhat in recent years, with artists such as Emma Ruth Rundle and labels such as Sargent House releasing music that many "metalheads" can connect with but that also encompasses the influence and understanding of a more refined songwriting style. More music exists now that references metal or punk but that also communicates something of the ineffable quality — duende, it has be called — which permeates country music, the blues, and traditional music.
Henry Derek Elis is an artist who embodies all of the above. He is a stalwart of the metal scene, being a member of supergroup Act Of Defiance (alongside two former members of Megadeth and Matt Bachand of Shadows Fall) and having worked with such luminaries as Slipknot's Joey Jordison (in Scar The Martyr). In 2018 he released his first solo album as a "southern gothic singer-songwriter." Lauded by the likes of Rolling Stone magazine, this collection laid bare Elis' Americana influences whilst maintaining a dark and perhaps somewhat twisted outlook not alien to metal but also in the vein of the likes of Tom Waits and Nick Cave.
The All The Pretty Little Horses EP is Elis' upcoming release and it is a wonder to behold. Here Elis has chosen four songs to cover and he has made them entirely his own whilst paying sincere homage to the originals.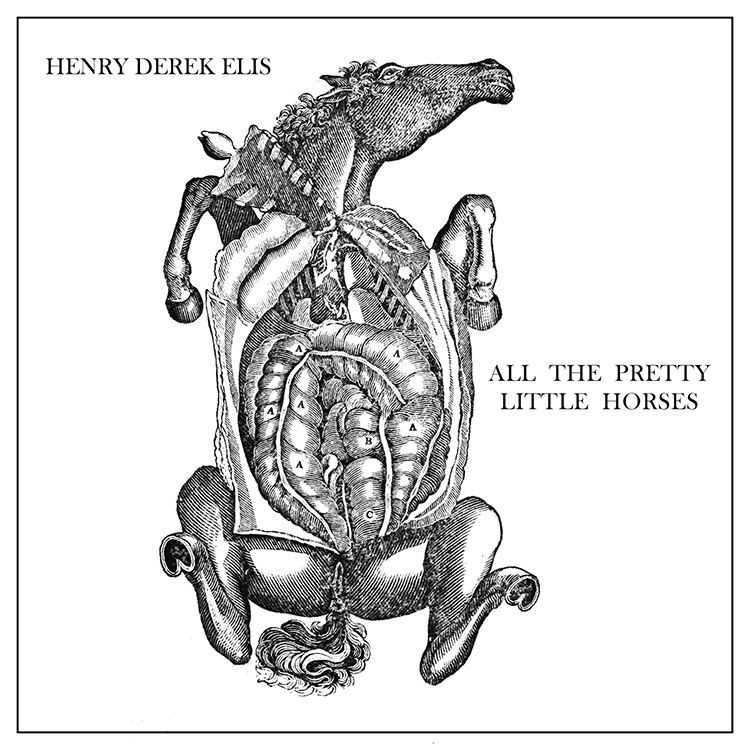 In fact, there is no "original" as such when it comes to the single, opener and title track "All The Pretty Little Horses", being as it is a traditional American lullaby. The song begins with a mysterious drone that sets the scene from the outset, instantly bringing to mind Cormac McCarthy novels and dark western movies. Atop beautifully subtle acoustic guitars, Elis' voice implores us to "go to sleep" in tones that are part-whisper and part whiskey-sodden growl. As heartfelt as it is dark, as tender as it is doom-laden, the song is five minutes of deep catharsis in the deep south. The harmony vocals, string section and subtle electric guitar are utterly beautiful in supporting the dynamics of the piece as it melts every heartstring it meets with.
Next up is a lush and melancholic rendition of Billy Idol's "Dancing With Myself." This version, complete with pedal steel guitar and fragile female backing vocals, becomes an earnest and soulful tearjerker. Warm guitars and intimate production build and give way to a full sound reminiscent of the Twin Peaks theme tune. It stops you in your tracks and demands you sit with and experience its moment.
Track three is a cover of "Heart of the Devil" by Danzig. Here Elis presents a full heavy rock production with crushing guitars and pummeling drums. There is still a subtlety tense and haunting doom-folk undercurrent which maintains an eerie quality as the virtuosic metal guitar solos soar over the top. When Elis' screams "because I'm evil, and love is gone" he sounds like he truly feels every word.
The EP closes with Elis' haunting and starkly lonesome rendition of Steve Young's "Alabama Highway." His vocals – often layered up with earthy growls sitting next to reverb-drenched crooning – bring out the pain, hope and redemption of the lyrics, and the heavy-hitting drums give this version the purposeful drive of breaking chains and moving on towards elusive freedom.
Henry Derek Elis' All The Pretty Little Horses EP is steeped in music history and is rich in life experience. Its communications are simultaneously esoteric and universal to the human experience. If you are a fan of Wovenhand, Current 93, Nick Cave, Tom Waits, or music more generally that is emotionally heavy, dark and redemptive, then you need to hear this.
All The Pretty Little Horses can be pre-ordered now and is released on 3rd July on CD and digital formats.
For more from Alternative Control, find us on Facebook, Twitter, Instagram, Soundcloud, and bandcamp. Plus, follow our 2020 coverage playlist on Spotify!