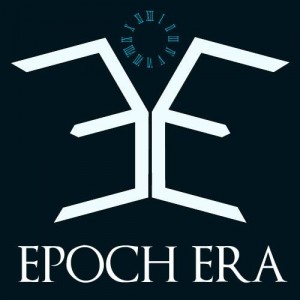 When I received an email from Epoch Era asking Alternative Control to review their EP, I wasn't sure what to expect.  They billed themselves as "a group of teenagers from North Haven" who were "spawned from the semen and eggs of (their) parents and […] here to invade your ear holes."  And when you tell someone that your songs are inspired by sexual frustration and stale Cheetos… Is that supposed to be a good thing?
Well, my curiosity got the better of me.  I opened their electronic press kit to see a picture of four good-looking young guys, one of whom was wearing an orange vest with no shirt underneath.  Was I ogling a high school student?  Now I had to listen.

The first track, "Darkness Calls," opens with a guitar riff that's an unmistakable nod to "The Trooper."  However, that's short-lived — the verse riff and vocals veer the song a non-Maiden direction that moves through several genres to end in a southern-rock inspired outro.
"Darkness Called" is followed by "Tempest," a tune that is similarly genre-jumping.  Some of the guitar work here is pretty cool – the solo would fit right in with any song on WPLR and another riff combines more Maiden nods with punk "whoa whoas" in the background for an unexpected effect.
Epoch Era continues to highlight their musical influences in the second half of the EP.  Riffs and vocals in third track  "Fallacy" vaguely remind me of "Youthanasia" and final song "Void" has "Electric Funeral" written all over it, at least until the verse kicks in.  This juxtaposition of classic metal with more modern sounds is a defining feature of Epoch Era's music, and there are some points where it works better than others.
Overall , I think Epoch Era has a lot of potential.  If they focus their song-writing ability and musical background knowledge on creating something more personal and authentic, they will naturally progress to a sound that is their own.  I found out from their Q & A video that they are all 18 and 19 (legal for a school librarian to ogle!), and their band is WAAAAAY cooler than any band I thought I had when I was 18 or 19.
Now that you've read the review, heard the tracks, and watched the video, you can literally see Epoch Era three times within the next week if you want to.  (Maybe if The Vest comes off at shows…)
12/28 w/ Sean O'Reilly, Traditions, Eye Deep in Hell, Earthbound, One Time Show and Banana Bread at the Webster Theater in Hartford
12/29 w/ SSBB, Norastone, Rise & Resist, and Thera Roya at The Space in Hamden
12/31 w/ Dying Fetus, Revocation, Tartarus, Behold the Beginning, The River Neva, Julius Seizure, Celestial Dimensions, Sawtopsy, Begat The Nephilim, Priaprism, Dream of Scipio, The Green Invaders, Beneath the Marrow and A Fury Divine at the Webster Theater in Hartford
Find Epoch Era on Facebook, Soundcloud, and more –  and let Alternative Control know what you think!