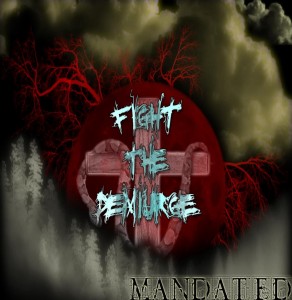 By Thomas Pizzola
If you are in the mood for sick slices of homemade death metal, look no farther than this split EP, which features two one-person bands that both play brutal death metal. It will make you ask, "What type of sick people come up with this sort of thing?"
To answer that question, people I know on Facebook. Fight The Demiurge is the project of one Samantha Michelle Smith, who also does depressingly crushing funeral doom in Broken Anatomy.  In this project, she unleashes a torrent of thick distorted rhythms and guttural vocals. She has quite the frightening tone in her voice. That is totally meant as a compliment.
The split opens in almost funeral doom fashion with a creepy atmospheric intro before the next track, "Face The Reality," slams right into you with the aforementioned sick guitar tone and even sicker vocals. From there, she throws in a couple more tunes, both that feature "so-wrong-that-they're-right" dialog samples (one is from "Futurama") and more crazy death metal antics.
So onto the second band.
How do you torture a whore?
I would say, by politely refusing her advances. (If she wants sex, then don't give it to her.)
But, for this band, it's coming up with a bunch of song titles that would make people into gore and porno grind proud. And coming up with some lo-fi music that will satisfy your sick side.
You know who you are.