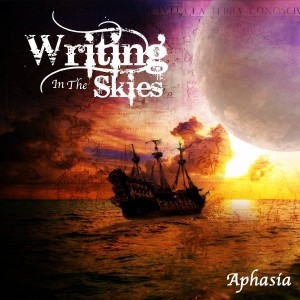 Writing in the Skies, hailing from Western Massachusetts is a talented instrumental metal/prog rock act for sure. Their debut EP Aphasia is a sweet taste of what the band has to offer with their upcoming LP. I'm only assuming (and hoping) that the band will continue to progress from their EP, since they seem to have a really great start going here and have the potential to become something special. The key is not only fine-tuned musicianship, but more importantly, their significant loyalty towards a strong melodic footing.
When I'm listening to this EP, I'm reminded at times of the better rock/metal acts on the independent prog label Magna Carta. I'm thinking of a cross between Shadow Gallery and a tamer version of Behold…The Arctopus. There's definitely a softness to this music, but the band is no slouch with songwriting fireworks. The emphasis here is not to leave a devastating impression, but to invite the listener on a friendly journey through a metaphorical snowcapped mountain range. The scenery is beautiful, the snow is delicate and yet the majesty of it is quite inspiring. All instruments (guitars, bass and drums) are performed and recorded beautifully; the sound has a valiant and chivalrous soul; the scope is wide and far but most assuredly rooted firm to the earth.
The band is in no way trying to turn people away with their weirdness. And despite occasional forays into showmanship, they're not bent on writing songs purely for music theorists. What we have is carefully composed, immediately enjoyable instrumental rock music. There are unexpected twists, turns, screws and stops but the songs don't attempt to beat you with zealous complexity. They want to genuinely reel you in with accessible motifs and pleasing transitions from gentle folk acoustics to olden In Flames instrumental prowess.
Are these guys paving the way towards a new form of progressive music? I don't think so. I've heard this kind of sound before, sure. But that doesn't make it bad music by any means. And really, this is the first EP from a band that I honestly feel has a lot of promise. They might be a little too soft for the metal crowd, and a little too normal for people looking for something unique, but they know their instruments and they know their sound. In my opinion, there's nowhere for Writing in the Skies to go but up. They've already proven that they can handle writing music, let's wait and see if the upcoming LP can handle taking that a step further…
7 out of 10.
For more from Writing in the Skies, visit them on Facebook and the web.
And for more from Alternative Control, find us on Facebook, Twitter, and Instagram!  @AltCtrlCT