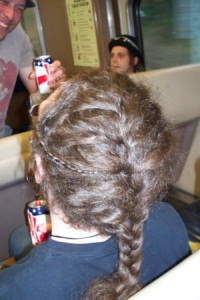 It was a hot and sultry afternoon when me and six of my pale, mostly alcoholic friends headed to the Glenbrook train station for a rowdy night of heavy metal in the City. Laughs and smiles were abound as three-quarters of Arcane Malevolence and three-quarters of Pink Missile (and Carrie) sacrificed our plans of making drunken fools out of ourselves at one of our houses in exchange for making fools out of ourselves at a lovely and unabashedly corporate Manhattan venue, the Best Buy Theater. We loaded into the train and wasted no time in breaking out the train-corn as we guzzled down as much wine, drank as much beer, and crafted as many French braids out of our hair as we could in preparation for a great show.
Now, this is where I'm supposed to go into the actual reason why I took up this "Music" space on this month's Alternative Control. I'm supposed to write a review on the show and what I thought of all the bands. However, I (sort of) regret to inform you that in reality I only really saw 40% of the actual bands. I'll tell you what I know, and fill in the rest with cheap attempts to recreate what I'm sure I missed.
When we arrived, my bandmates Mike Devaney and Johnny Pluckman were just in time to see one of their favorite bands, Obscura. Normally a good fan would run into the room where the stage was to catch as much of their set as possible. But, I mean, there's beer to drink first right? So we all bought a few brews at a very reasonable 8 dollars a can and ran in to catch what we could of what Obscura had to offer.
What they offered was an awesome slice of incredibly technical yet surprisingly melodic death metal played to the finest caliber. I wasn't too familiar with their music, but it sounded linear, adventurous, experimental yet executed with the confidence of a tech band that knows EXACTLY what they want to do with their music. The sad part is we were only able to catch a couple of songs off of what I heard was a 4 song set, 1 of them played in front of the Chinese delivery man that had finally brought the bands and their crewmen a huge supply of egg rolls to last them the night. As far as I heard, he gave a bow to them as he left to show his approval. Also, extra points for the wind machine that made the lead singer look like he was standing at the precipice of the royal courtyard of Gondor.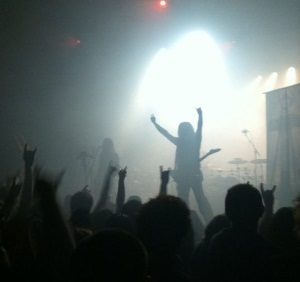 After some more debauchery and getting my ticket stub ripped up as a warning (cough cough), me and Jessie May (despite words of warning from a few in our group) decided to step back in to check out the band Foggy Fogerton and the Fog Boys, also known as Septic Flesh. All kidding aside, I think they overdid it a tad with the atmosphere (as you can see from the picture) and left everything else about them completely underdone. Seriously, they sounded like Crowbar set to Dimmu Borgir album intros. They apparently get a lot of praise and I can't see their live performance backing that up in anyway. The lead singer spent most of his time hanging his guitar from his neck, not playing it, and lying to us in a very broken English. Lies such as "OK! YOU READY GUYS?!! THIS PART IS LIKE, REEEAALLLYY COOOLLLL! READY?!! One…two…three…RARRR!"
No Septic Flesh, that part wasn't cool. None of them were. The best part about their set was the fact that one of the Fog Boys apparently added too much Worm's Wart to the fog machine and the fire alarms went off, mercifully and effectively ending their set early. Thank God…
After hanging out in the hall for a few and not leaving the building by fire alarm protocol (Seriously, an unzipped pant leg pocket on a pair of Jncos would have attracted more attention), we anxiously flew inside and broke up to get our own respectable views of the man we truly came to see. Mr. Devin Townsend and the Devin Townsend Project took the stage and the place went ecstatic. Devin himself was a man of great stage presence as usual. His witty banter and overdressed suit getup only added to his childish and hilarious banter and his undeniable ability to make friends with the crowd. The band played amazingly tight and did a fairly diverse selection of songs from his discography to an audience that for the most part definitely made him feel like tonight was for him. Me and Danny Acedo made fools of ourselves on the back balcony, air guitaring and singing along badly with every lyric. I definitely see myself as a fan boy, but can honestly tell you that his forty-minute set would have impressed anybody. The sound, the performance and the energy were top notch. Rob DiRoma, who had his first Devin Townsend concert experience certainly felt confident in a return ticket purchase for Devin's following tour. I know I'll be there, French braid or not!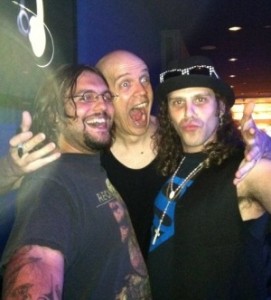 After the show we all went back inside for another round. However, I was excited when I found out that Devin himself would be doing a meet-and-greet. The line was already incredibly long, though, and my hopes of getting a picture and signature were rapidly falling… Until Johnny Pluckman made a real gentlemanly move to get us to cut into the line. He had made a gesture to a young man in line that he really liked his shirt and then calmly invited us into line with him to stand there and just kind of soak into the afterglow of his shirt compliment. What I think he really said though was this, "So, like I'm just going to get in front of you and invite 3 of friends along too. Because, y'know, considering you like Devin Townsend, I'm pretty sure I can beat you up". So we cut ahead and I got my chance to meet an idol of mine if only for a minute. You can tell the four of us were prepared for a signature. Two ticket stubs, a business card and driver's license were all branded with the black ink of that bald headed genius's Sharpie and we were all better people because of it.
I didn't see any of Children of Bodom's headlining set. But from what Jessie and Mike had alluded to, I think I can make a pretty good assumption on how it went. Here it is:
Alexi: HEEYYY! YOU GUYS READY FOR SOME LAMB OF GOD RIFFS???!!!
Audience: UMMMMMM!!!! UHHHHH!!!
Alexi: ALRIGHT!!!!! WE'RE CHILDREN OF BODOM FROM FINLAND!!! FINLAND, VIRGINIA THAT IS!!! LET'S GET CRUNCHY!!!! *JUNT JUNT JUNT JUUUNNNT*
Roope: HEEYY! ALEXI! ARE YA GONNA PLAY ANY SOLOS?!
Alexi: NO!!!!!!!
And so concludes my review of this wonderful Saturday night. A train ride home, a fuzzy memory, and a tall boy Budweiser tossed at a train as it passed is all there is left to remember of a joyous evening of debauchery. I met Devin Townsend! OMG!