Hot off the presses from Mettle Media PR:
The 
Maryland Doom Fest
 celebrates its sixth anniversary in 2020, today they confirm a reschedule of the event, now set for Halloween Weekend — 
October 29th through November 1st, 2020
!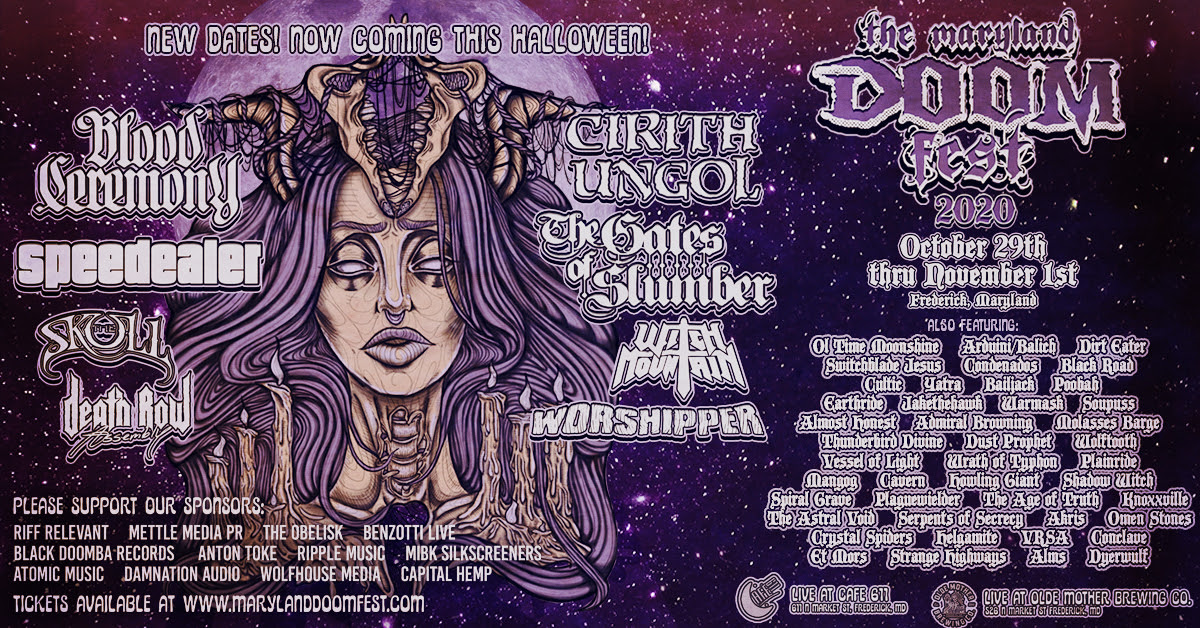 The official word from JB Matson, founder of Maryland Doom Fest:
"In these trying times, we hope each of you are healthy & happy. The current state of the world has forced us to postpone Maryland Doom Fest 2020, so that we can properly party down MDDF style.
The new 2020 dates are on Halloween weekend!! OCTOBER 29 thru NOVEMBER 1. We anxiously look forward to a fantastic #4daysofdoom in October!! "
Maryland Doom Fest brings artists from all over the map into Frederick, MD for a full four days of mayhem, featuring headliners Cirith Ungol, Blood Ceremony, Speedealer and The Gates Of Slumber all set to headline the four nights of top shelf doom metal and heavy underground sounds!
This sixth festival year includes over fifty of today's heaviest bands to cover every dark and dank corner of metal sub-genres from start to finish each night. We invite all to become part of the family at the Maryland Doom Fest 2020 events! Please support the Doom and Heavy Music scene and come share in this epic weekend with us.
THE MARYLAND DOOM FEST 2020
Now October 29th – November 1st, 2020
Frederick, MD at Cafe611 & Olde Mother Brewing
CIRITH UNGOL + BLOOD CEREMONY + SPEEDEALER + THE GATES OF SLUMBER
THE SKULL + WITCH MOUNTAIN + WORSHIPPER + DEATH ROW ASSEMBLY
Ol' Time Moonshine + Arduini / Balich + Dirt Eater + Switchblade Jesus + Condenados + Black Road + Cultic + Yatra + Bailjack + Poobah + Earthride + Jakethehawk + Warmask + Sourpuss + Almost Honest + Admiral Browning + Molasses Barge + Thunderbird Divine + Dust Prophet + Alms + Vessel Of Light + Wrath Of Typhon + Plainride + Mangog + Cavern + Shadow Witch + Spiral Grave + Plaguewielder + The Age Of Truth + Knoxxville + The Astral Void + Serpents Of Secrecy + Akris + Omen Stones + Howling Giant + Crystal Spiders + Helgamite + VRSA + Conclave + Et Mors + Strange Highways + Dyerwulf
Tickets on sale now! All previously purchased tickets will be honored for the new dates.
https://www.marylanddoomfest.com/
RSVP: http://tiny.cc/mddf2020rsvp
MDDF 2020 PLAYLISTS: