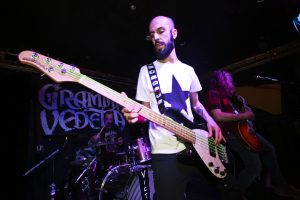 Marco, bassist of UK fuzz rock band Gramma Vedetta, shares another one of his musical interests with AltCtrl: EDM composition.  Read on for a look into another world….
My experience with synthesizers and modules started in 2010 back home where I met a great EDM music producer.  I always loved music composition as my band town teacher used to write music sheets just by listening to a tape (I used to play Euphonium and Trumpet for several years).
The approach to DAWs and VST opened a new universe for me.  Having a small home studio was the way for me to write any kind of music, without limitation of genres and that's why I didn't hesitate to buy my first M-audio interface, a pair of Sony's headphones and a Yamaha 25 key midi keyboard.
I remember how wild were my first creations as they sounded more like a DJ set than a proper song. I never set any rules in my composition process following just the vibes.  The research of my sound started parallel with several collaboration with other DJs and producers playing bass, trumpet and synthesizers.
Loving artists so different from each other brought me to compose mainly electronic music with inserts of orchestral sections and modules sequences. I also love sampling and composing using the musicality of a speech or giving ambient sounds a specific task in my works.  For example, I created a song sampling while travelling in the London Underground. The closing door of my carriage became a snare and the singer of my song is the lady that announce the stations. This all process happened because the announcement voice start looping and a song started in my mind.
Without investing in my new passion I probably couldn't have the ability of creating music from what surrounded me.  Starting from a basic sound that can be considered just noise, I can get the right instrument I am looking for to express a message or a feeling.
Connect With Gramma Vedetta
Photo courtesy of the band.  For more from Alternative Control, find us on Facebook, Twitter, Instagram, Soundcloud, and bandcamp.