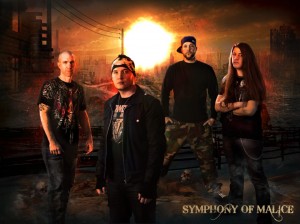 In the late 70's and early 80's bands like Diamond Head, Tygers Of Pan Tang, Samson, and Witchfinder General buried the blues base of Black Sabbath and Deep Purple in favor of quicker tempos, tough-guy guitar riffs, and a denim-clad aesthetic.  This movement became known as the New Wave Of British Heavy Metal and greatly influenced many Stateside bands, notably Metallica who have released enough N.W.O.B.H.M.  covers to fill a double album.
Fast-forward to the late 1990s when another, similar, progression grew out of the grunge explosion.  Scene movers like Pantera, Biohazard, and Machine Head began to add layered guitars, neck-snapping groove, and dynamic vocals to the dated metal format to give birth to the New Wave Of American Heavy Metal [N.W.O.A.H.M.].  As all genres of music, the N.W.O.A.H.M. has continued to add new elements and today's predominant practitioners rely heavily on mixing the guitar harmonies of Iron Maiden, the breakdown grooves of hardcore, death metal-influenced verse vocals morphing into clean, hook-filled choruses.  All That Remains, Killswitch Engage, God Forbid, Trivium, and As I Lay Dying carry the flag proudly and CT-based bruisers Symphony Of Malice are poised to join the fight with their soon-to-be-released effort, Judgement Day.
The strength of SoM's debut release lies in the songwriting; each track is a concise and coherent thought while also contributing to the overall feel of the album.  The band has done a great job with arrangements, cleaving off unnecessary bits – think the polar opposite of Metallica's magnum abortion St. Anger.  "The Aftermath" kicks off festivities with the obligatory air raid siren and guitar/drum build up, finally spilling into the storming "Endless Desolation."  The third track, "Nothing Left In Us," sounds like Trivium's Matt Heafy singing an unreleased All That Remains track from the Overcome sessions.  "Turn To Ashes"  takes the intensity down a notch before "Hands Of Justice" cranks it back to a fevered pace.
The musicianship on Judgement Day is never in question.  Every player, from guitarist/singer/songwriter Gus Sinaro to drummer Steve Libero, handles their instrument with confidence.  Bassist Jeff Curtiss adds tremendous bottom end while playing for the song.  "Ruins Of The Empire" starts with a churning bass riff and gets the song rolling downhill before the rest of the band crashes in, morphing a rolling stone into a house-crushing monolith.  Sinaro and Joey Concepcion work as an efficient tandem, both pummeling the listener with jagged riffage and singing leads.  Harmonized solos sit comfortably on top of Libero's agile drumming; the carpet-bomb double-bass run in "War Conspiracy" was an album highlight for this writer.
Recorded and produced by Nick Bellmore [Kingdom Of Sorrow/Toxic Holocaust], the production value adds tremendous value to the overall vibe of the album.  Every instrument has a defined place in the mix with the entire sonic spectrum built on a very punchy drum mix.  The bass rides very nicely between chugging guitars and the kick drum with just enough grit to make Lemmy smile.  Judgement Day could be played back-to-back with any major-label release with no way to discern what was recorded and mixed for nearly six figures in four months and what was hashed out in three weeks for less than a used car.
Is this a textbook example of high-quality N.W.O.A.H.M.?  Absolutely… But the focus is on 'high quality'.  Everything you love about the genre – pounding drums, candy-sweet guitar harmony, bouncing rhythm, screaming verse into sung chorus vocals – is present and done with conviction.  Judgement Day doesn't break many boundaries or reinvent the proverbial wheel but, honestly, it doesn't have to.  Mix in incredible production value and you have a potent offering by an up-and-coming band.  This is the type of self-released album that opens up doors on a bigger scale.  With N.W.O.A.H.M. bands gracing stages and selling albums all over the world it isn't hard to envision Symphony Of Malice taking the next step toward the Musical Holy Land.