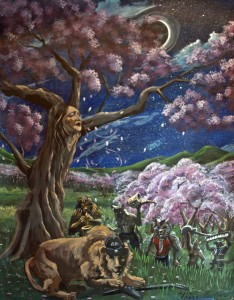 "Intoxicate thyself with soul.
Dance under the waxing, crescent moon in defiant celebration of Lady Liz's return! Witness the triumphant, live RE-BIRTH of SNOOTY GARLAND!
Experience a lush, original celebration of music in glorious expressions of light, color and sound."
Alternative Control 
cannot let you miss
Snooty Garland's Springtime Opus
, going down March 21st at the Bijou Theatre in Bridgeport.  Enter below for your chance to win a pair of theatre seats to the event — giveaway ends at midnight on Friday, so get moving!
Winner will be notified by email and asked to provide a mailing address.  Tickets will be mailed by Monday, 3/16 at the latest.  (And if you don't win, you can buy tickets here.)  May the odds be ever in your favor!
For more from Snooty Garland, visit them on Facebook and Reverbnation.