What unites Pillars of Ash and Invisible Birth of Death?  One is straight-ahead, the other a more varied metal palette.  One band is little-known on a small label, the other Relapse road warriors.  But both bands are from Georgia, they've shared the stage, and coincidentally their promos appeared in my email inbox around the same time.  So here goes!
Pillars of Ash (January 2016, Relapse Records) is Black Tusk's final recording with founding bassist and vocalist Jonathan Athon, who passed away in an tragic motorcycle accident in November 2014.  The band describes themselves as sludge, but on this work I heard thrash and hardcore punk.  It maintains an urgent pace throughout — a kick in the stomach, a PBR in the air, back to another kick in the stomach.  But the rousing riffs belie dark lyrical content, based around death and the afterlife:  "The Wretched and forlorn, will cross these wasted fields," the band sings on "Born of Strife."  "Of rocks and dust and face the sky and / Embrace the Grey and Eternal Light."
Invisible Birth of Death, released today via Deathbound Records, is an album of more twists and turns.  Savagist uses changing tempos and time signatures to take listeners on a journey from Mastodon to The Mars Volta.  The final track "Black and Endless" is a perfect example of this, with a delicate intro giving way to throttling riffage.  That song isn't online at the moment, but "Nourishment for Larval" will give you the idea:
Personally I was more a fan of Savagist's brand of Georgia sludge metal than Black Tusk's because there was a lot more variety in the music.  However, both albums were enjoyable and I'm sure Black Tusk puts on a hell of a live show.  Speaking of which…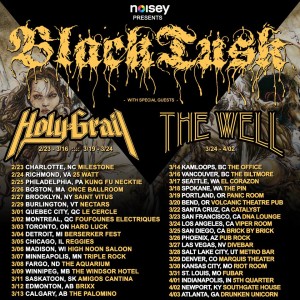 Upcoming Black Tusk Tour Dates (with Holy Grail)
Feb 23 Charlotte, NC  Milestone

Feb 24

 Virginia Beach, VA  Shakas

Feb 25

 Philadelphia, PA  Kung Fu Necktie

Feb 26

 Boston, MA  Once Ballroom

Feb 27

 Brooklyn, NY  Saint Vitus

Feb 29

 Burlington, VT  Nectars

Mar 01

 Quebec City, QC  Le Cercle

Mar 02

 Montreal, QC  Foufounes Electriques

Mar 03

 Toronto, ON  Hard Luck

Mar 04

 Detroit, MI  Berserker Fest

Mar 05

 Chicago, IL  Reggies

Mar 06

 Madison, WI  High 

Noon

 Saloon

Mar 07

 Minneapolis, MN Triple Rock

Mar 08

 Fargo, ND The Aquarium

Mar 09

 Winnipeg, MB  The Windsor Hotel

Mar 11

 Saskatoon, SK  Amigos Cantina

Mar 12

 Edmonton, AB Brixx

Mar 13

 Calgary, AB  The Palomino

Mar 14

 Kamloops, BC The Office

Mar 16

 Vancouver, BC The Biltmore

Mar 17

 Seattle, WA  El Corazon

Mar 18

 Spokane, WA  The Pin

Mar 19

 Portland, OR  Panic Room

Mar 20

 Bend, OR  Volcanic Theatre Pub

Mar 22

 Santa Cruz, CA  Catalyst

Mar 23

 San Fransisco, CA The Parkside

Mar 24

 Los Angeles, CA  Viper Room

Mar 25

 San Diego, CA Brick By Brick

Mar 26

 Phoenix, AZ Pub Rock

Mar 27

 Las Vegas, NV  Divebar **No Holy Grail**

Mar 28

 Salt Lake City, UT  Metro Bar

Mar 29

 Denver, CO  Marquis Theater

Mar 30

 Kansas City, MO  Riot Room
Mar 31 St. Louis, MO  Fubar

Apr 01

 Indianapolis, IN  5th Quarter

Apr 02

 Newport, KY  Southgate House
For more from Alternative Control, find us on Facebook, Twitter, Instagram, Soundcloud, and bandcamp.