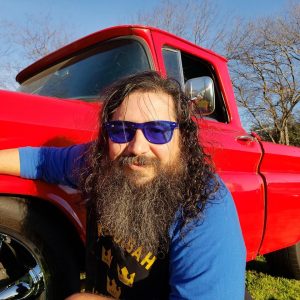 One-man Austin, Texas instrumental metal outfit Huelga is ready to tear down genre boundaries with the release of a debut self-titled EP this April. The project of jazz multi-instrumentalist Michael Fonseca, Huelga's music has been incubating for over a decade.  Now Fonseca is offering his work to the world, inspired by modern composers Charles Ives, Frank Zappa, and Elliot Carter, as well as the Chicano Movement and the current political tensions that have come to a boil on the Texas/Mexico border.  See what Fonseca has to say about expressing himself instrumentally, the pros and cons of being a solo artist, and more…
From your press release and some of our discussions outside this interview, I know that Huelga is fiercely pro-immigrant and pro-Latinx.  How do you express those sentiments without lyrics?
The name "Huelga" comes from an iconic image of Dolores Huelga during the farm workers' union strike. For Spanish speakers, the name Huelga represents standing up against injustice. I also express my political views through song titles. I will be using pro-Latinx imagery in future merch and videos as well.
How do your own background and experiences contribute to the politics of your music? 
As a drummer, I always felt like I was on the lowest spot on the totem pole. Even with copyright disputes, drummers do not get compensated for their contributions in a band. Once I ventured on my own, I saw how much easier it was for me to accomplish my musical goals. Whenever there is a strike, people take action and ask for what they deserve. That is where I find the commonality.
How does your musical background in jazz play into what you're writing for this current project?
I still use improvisation when I write. For example, in "Chinga de Perro, I improvised on the drums and I later wrote the guitar and bass to match what I played on the drums. I tend to use extended harmony which is common in jazz but with distorted/drop-tuned guitars. Those chords take on a life of their own.
Why did it take Huelga 10+ years to see the light of day?
I started writing music for this project right before I became a train conductor. That took a year but I also lost that music because those hard drives broke. When I moved back to Austin, I joined a lot of different bands that ultimately broke up. I did that for a few years. I decided to go back to school to get my Master's in Jazz Performance at UT. That took two years to prepare for the audition and two years to complete the degree, which meant that I spent those four years focusing on jazz and abandoning my project.
You've shared the stage with some nationally known jazz players and been in a band with a guy who went on to found The Sword.  Tell me about a live performance that stands out in your memory as a favorite.
Cyrus Chestnut was at UT giving a lecture on playing ballads. I got to play with him and as soon as he hit the first chord, I felt a deep profoundness in his time which I haven't experienced since.
Do you like The Sword?
Some of those guys are my oldest and best friends in Austin and I feel very proud of what they've accomplished. I'm especially fond of the first two records.
What do you like about being a one-man band?
The best thing about being in a one-man band is that I don't have to delegate tasks to band members. So when something needs to get done, I get it done. The only work ethic that I need to worry about is my own.
Is there anything you miss about being part of a "regular" band?
I think the only thing that I'll miss is touring in a band with my friends. I have plenty of opportunities to play with other musicians around town. There may be a point in the future where I would take on the traditional role of a drummer in a band, but right now I'm focusing on this particular project.
What do you want to do with Huelga after the release of this EP?
I learned a lot of valuable lessons releasing this EP. Going forward, I plan to release a series of singles and I will release them as split seven inches with other bands. The long term goal is to play in as many different places around the world.
Huelga, mixed by Mick Kenny of Anaal Nathrahk, will be released in digital and cassette format on  April 5, 2019.
Preorder here: https://huelga.bandcamp.com/album/huelga
Connect with Huelga
For more from Alternative Control, find us on Facebook, Twitter, Instagram, Soundcloud, and bandcamp.