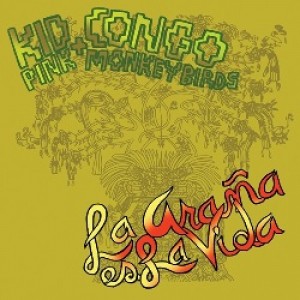 Well, it's been a while… So why not make my glorious return to this blog with a list of what I consider to be the best records of the year so far?  I mean, everybody else is doing it, so why can't we?
I'm sure by this point, you know what to expect from one of my lists. Rock, noise rock, and more rock, of all varieties. Sometimes I wonder if it's worth doing one of these, because I tend to not like the same so-called important releases that other blogs fawn over. But you know, it's all opinion anyway and these were the discs that rocked my world for the first part of this year. (The fact that I say they "rocked my world" might already draw disdain from certain media outlets that turn their nose up at rock.)
Oh well, you know who you are reading. So here goes my list.
The Shrine – Rare Breed (Century Media)
Graf Orlock – Crime Traveler (Vitriol)
Child Bite – Negative Noise (Housecore)
Black Black Black – Altered States Of Death And Grace (Aqualamb)
Gehennah – Too Loud To Live, Too Drunk To Die (Metal Blade)
Grand Magus – Sword Songs (Nuclear Blast)
Mantar – Ode To The Flame (Nuclear Blast)
Kvelertak – Nattesferd (Roadrunner)
Foster Care – Sterilization (Total Punk)
Kid Congo & The Pink Monkey Birds – La Arana Es La Vida (In The Red)
Purson – Desire's Magic Theatre (Spinefarm)
Blood Ceremony – Lord Of Misrule (Rise Above)
Primitive Weapons – The Future Of Death (Party Smasher)
Joy – Ride Along! (Tee Pee)
Cobalt – Slow Forever (Profound Lore)
Head Wound City – A New Wave Of Violence (Vice)
I put The Shrine's last album on one of my previous Best Of lists and their inclusion continues onto this one. They moved to a much bigger label in Century Media and got a much bigger name producer in Dave Jerden, but that didn't affect them much, as they released another killer set of jams that mix 80's hardcore with 70's hard rock. Seriously, they ripped when they opened for Clutch a few months back.
Long running Detroit weirdoes Child Bite, put out their first full length for their new label and totally slayed with their high impact merger of hardcore and noise rock. They opened for Poison Idea back in February and put on a killer performance.
Graf Orlock and Black Black Black take very different approaches to music, but are connected through their unique takes on packaging. Graf Orlock's hardcore/grind is inspired by the movies, and their new one basically is a soundtrack to a low budget action film the band filmed. Black Black Black play a pitch black form of music that could be considered doom pop. It's ultra catchy and hits hard.
You see, Orlock's new release comes wrapped in a faux 13-page newspaper which features articles based on the story of the film that the album is based on. Aqualamb, the label that puts out Black Black Black's music, offers the regular vinyl and download versions, but they even go farther by offering a 100 page softbound book, which contains all of vocalist's Jason Alexander Byers' lyrics and his artwork to offer a unique experience. The books come with downloads.
The fancy wrapping on these two releases is just a bonus. The music slays.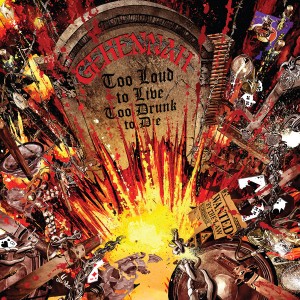 Grand Magus and Gehennah show that certain strains of trad metal are alive and well in this day and age. Grand Magus play epic songs that sound like Judas Priest if they wrote about vikings and warriors exclusively. Gehennah, who put out their first new album in almost twenty years, take the music back even farther as their dirty, sleazy sound owes a lot to Motorhead and Venom. Attitude and feel is more important than chops to this band. And the songs come off like gangbusters. It makes for a nice roll in the rock n roll gutter.
Sludgy German duo Mantar made the jump to a much bigger label and lost none of their power. In fact, this is some of the heaviest and nastiest, sludgy rock n roll you're likely to hear all year. Kvelertak upped the rock n roll on their new album and came up with the best release of their career. From top to bottom, this one is chocked full of hard hitting, high energy and fun rock songs, which goes perfectly with their balls out live show.
For those who think all I just review metal, hardcore and hard rock, there a couple of straight up garage punk releases that really made an impression. Plus, it's all high energy, high attitude, distortion-laden music to me.
Foster Care's second album, on the phenomenal Total Punk label, is a rip snorter. It's garage rock played at a hardcore velocity. Kind of like the New Bomb Turks, which is a favorite band of mine. In addition. garage punk legend, and now New Haven resident, Kid Congo Powers put out an excellent album with his new band The Pink Monkey Birds. It's everything you would expect and more. Plus, they recently tore the roof off Cafe Nine about a few weeks ago.
Primitive Weapons' debut on the new label formed by the Dillinger Escape Plan's Ben Weinman, was a high octane mix of noise rock and catchy post hardcore, totally living up to the hype they established with their debut The Shadow Gallery a few years ago. Head Wound City also like the keep it noisy. This band which features members of the Blood Brothers, The Locust and the Yeah Yeah Yeahs, finally got around to releasing their long awaited debut and it was everything one could hope from this band. The new Cobalt album was ferocious, unhinged and very dangerous.
In addition, the 70's inspired rock revival keeps going, and I'm not complaining. Two bands that used to be labelmates in Purson and Blood Ceremony both released excellent albums. Blood Ceremony sticks closer to their occult rock roots, but they also expand their sound with hints of uptempo rock, folk and psychedelic pop. Purson, who made the jump from Rise Above to Spinefarm, sound like a combination of Hawkwind and Ziggy Stardust-era David Bowie. They're dark, but a little bit more whimsical. Some might say, very British. Meanwhile, San Diego's Joy streamlined their music a bit and now hit harder, like the second coming of Blue Cheer. Seriously, listen to the new record.
Well, these are my choices for the best, so far. I can't wait for the second half to unfold and see what else gets loosed upon the music world. For me, I'm constantly surprised at the amount of albums I find excitement in these days. Sort of flies against the notion, that some people say, that there is really nothing good to listen to anymore. I seem to find quite a bit, I'm supposed to be very picky.
What's on your list so far?
For more from Alternative Control, find us on Facebook, Twitter, Instagram, Soundcloud, and bandcamp.