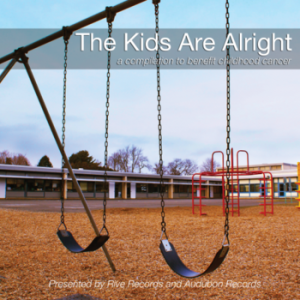 Don't say that "kids" are good for nothing these days — Fair Weather Records, an outfit put together by a couple young guys from the New Haven area, has recently released the compilation album The Kids Are Alright to benefit The Tommy Fund. Featuring 24 tracks from Connecticut indie bands, FWR plans to donate all proceeds to the New Haven cancer-fighting organization.
As I told FWR founder Douglas Jackson, my head is usually in the metal scene — but I was still able to appreciate the catchy, poppy tunes on this comp. My favorite tracks were "Stay Home" by Transit and Wess Meets West's instrumental "Bering Sea." Jackson was very happy with the lineup, saying, "I never imagined we could work with bands like Tiger Jaw and Hostage Calm."
Jackson and Fair Weather co-founder John Longyear are just as psyched to be raising money for an important cause. "A good friend of mine was diagnosed with terminal brain cancer at age thirteen and was given six months to live" Jackson said. But thanks in part to "the Tommy Fund's constant push to help him get better," his friend is now twenty years old and still going strong. Jackson hopes that if this benefit album is a success, that Fair Weather can release a benefit every year for various causes.
To hear the tracks and purchase a copy, visit FWR's Band Camp page. The album is available as a CD or in digital form, and individual tracks can also be purchased digitally. Also, keep an eye out for a release show later this fall!