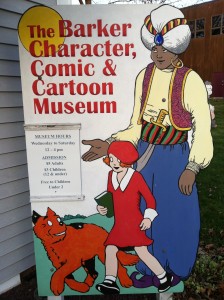 By Christopher Baldwin and Carrie Johnson
On a Saturday afternoon, Carrie, Jim Clegg of Pink Missile fame and myself decided to take a little day trip up to Cheshire, CT to visit the Barker Character, Comic and Cartoon Museum. We didn't really know what to expect, riding on a recommendation from a couple of friends of ours who said the place was worth the trip. After working around Jim Clegg's world-domination schedule (which I might add usually keeps him thoroughly detained), we set up the date and off we went on a surprisingly enjoyable non-alcoholic adventure. Some red Gatorade, anyone?
First things first, we all met up at Seaside Tavern for some tasty sliders. You can read more about the food at Seaside here. After gorging ourselves at the capacity and speed of Hungry, Hungry Hippos, we piled somewhat uncomfortably into my truck and took off for the highway. The trip itself was pleasant but quite uneventful. We laughed, we sang, we fell asleep, whatever. Carrie and I were just hoping that dragging a hung-over Jim Clegg to a faraway place was going to be worth the effort. We were a bit concerned about having the right directions, until a very blatant sign covered in cartoon characters had announced that we had arrived. Hooray!

I suppose we should give a little background. The site was actually just a barn before its conversion into a museum. It consists of the main museum building, an office/gift shop with an awesome showroom of framed animation and art, and the grounds are littered with wooden replicas of cartoon characters of all types, which allow for some pretty awesome photo-ops. All in all, their overwhelmingly extensive collection of toys and animation artifacts is one of the largest in the country. And believe me when I say that they have just about everything you can imagine. Seriously, they've got over 80,000 items on display, spanning fourteen decades!
Admission was just a reasonable five bucks, and we each received a complimentary pen with a cartoon-style hand on the end of it, perfect for reminding you that you're number one, or for pretending to pick your nose… We also received a printed guide to what we would find on display in the museum. With little time to see everything we wanted to see, we decided it best to browse the museum first. We headed on over, pens firmly in our noses, and opened the doors.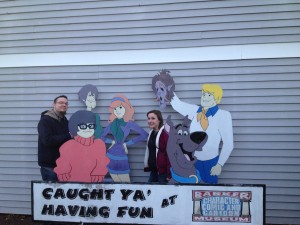 Our mouths were instantly agape. The museum is just how they advertise it to be; absolutely stuffed with toys and animation memorabilia. It was like a nostalgic toys graveyard, but in the best way possible! Every toy you remember playing with as a kid, and some you didn't even remember until seeing them again, ranging from McDonald's giveaways to old lunchboxes, to action figures and even toy telephones! We perused each aisle of the first floor, stunned by the sheer scope of the display. Not a single genre of animation was omitted. Everything from iconic Disney characters to cereal box cartoons are included. So much memorabilia has been collected that in some cases, you're able to observe an actual timeline of how certain characters have progressed over the years. This is especially apparent in older cartoon characters like Mickey Mouse and Bugs Bunny.
There's an entire room dedicated to Pez, including an ill-advised Pez gun from the 1960s, which allowed kids to point a gun at their mouth and pull the trigger… for a piece of candy. Genius! Not to mention the museum is the only Official Celebriduck Museum in the world! The helpful museum attendant informed us that the oldest items on display were a couple of metal elephants from 1873. More current displays included pop-culture 'icons' like Hannah Montana and N*Sync collectible dolls (think Barbie, only slightly lamer). Aside from cartoon characters, many other toys and collectables were featured. Fisher-Price classics, Big Little Books, political memorabilia, coloring books, sports collectables and 19th century artifacts all had impressive collections. We were thoroughly blown away, and we hadn't even seen the second floor yet!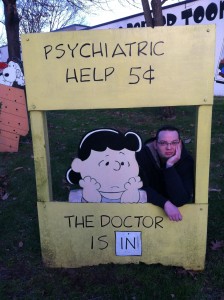 As we came up the stairs to the second floor, we could hear the terrible mischievous laughter of misbehaving children, and we breathed a collective sigh. Because of this, our visit to the second floor was shorter than we would've liked it to be. Blatantly disregarding the signs advising against touching the displays, and using flash photography, these kids (and their parents (!) were climbing all over everything, loudly and obnoxiously. On top of this, they held hostage one of the only displays that you're actually allowed to touch and take photos of. It would have been really great for the three of us to sit with those huge plastic Simpsons models as if we were part of their family, but it just wasn't going to be possible as long as these animalistic children were around. We hurriedly checked out the cool Gumby display of actual pieces used in the claymation series, breezed past the California Raisins collection, and headed back downstairs and outside for some photos. The photos included here are pretty self-explanatory concerning the debauchery that unfolded. Needless to say, Jim was not happy with Lucy's therapeutic methods.
Once the annoying kids made their way out to the yard, we headed into the art gallery to have a look around. Animation cels from popular Disney movies and Warner Brothers cartoons, as well as more abstract character-inspired works of art were on display and available for purchase. Some of the original pieces were incredible. A few artists had used Disney and Hanna Barbera cartoons as inspiration for their own paintings. The gallery was also massive, and I have to admit by this point, the three of us were experiencing a bit of information overload. Regardless, we enjoyed roaming through yet another extensive showcase at the Barker Museum. Both the quantity and quality presented in their museum and gallery had taken us by surprise. We strolled out just before closing time and headed back to home base feeling a little overwhelmed, but definitely satisfied.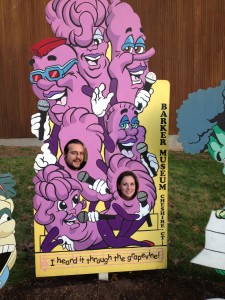 So, is the Barker Character, Comic and Cartoon Museum worth the trip? Abso-fucking-lutely. Believe me, if you have a free afternoon and want to take a little day trip, the museum is highly recommended. Just check their website for the days and hours of operation. We're surely taking a second trip up at some point to see some things that we weren't able to the first time. Hopefully, Chevy McTruck won't have to be the vehicle of choice and we can go up with a bigger group. I think there's something there for everybody, and we're definitely open to share it with some newbies. 🙂
 The Barker Museum is located at 1188 Highland Ave, Cheshire, CT, 06410.  (203)699-3822.  For hours and directions, visit their website.