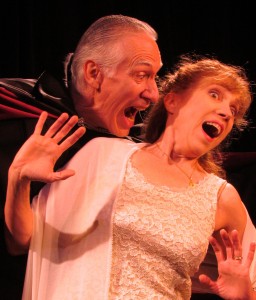 Why on earth would anyone want to go to the theatre? That's a good question. These days it seems the theatre has become a breeding ground for Disney dollars. Most of the crap on Broadway was already a movie, or a book, or already on Broadway. As a playwright and actor myself I am continually appalled at the lack of creativity in the theatre. Even local theatres tend to do the same shows over and over again.
But! Let's get this straight. The reason you go to the theatre is the immediacy of it. The actors are right there in front of you. Unlike a movie, where the scene is shot 100 times and only the best take chosen (and perfectly scored to let you know exactly how to react), in the theatre the actors recreate the moment right in front of your eyes. And, yes, anything can happen. That's part of the fun. There's a real connection with the audience, a back-and-forth that is acted upon in the moment, and it changes from night to night. Friday night audiences are different than Saturday night audiences and a skilled actor can fine-tune a performance on a dime, allowing the audience reaction to inform his or her choices. In other words, the theatre needs an audience to be theatre. Otherwise, it's just a rehearsal.
Which brings me to Dracula! October 31 and November 1 at 8:00 PM and November 2 at 3:00 the Theatre Artists Workshop (of which I am a member) will be doing a Classic Night Reading of Dracula. Tickets are 10 dollars at the door and I expect to see you there. Readings are great fun. Actors read from the script; there is no set, few costumes and only a couple of props. Readings allow the audience to really hear the play as it was written. Sometimes, in production, the lights and sounds and special effects can fool an audience into believing something is a great show. And maybe it is a great show, as in spectacle, but is it a great play? Readings can't rely on spectacle to keep the audiences attention. They only have the words and the collective imagination of everyone in the room. And you know you want to be a part of that.
And lastly, theatre is the original "scene." I hope you'll find it in your cold, metal heart to come out and support it. The information below is from the press release.
Theatre Artists Workshop presents a special Halloween reading of DRACULA by Hamilton Deane & John L. Balderston
Friday, October 31, Saturday, November 1 at 8 PM, and Sunday, November 2 at 3 PM.
5 Gregory Blvd, East Norwalk, CT
Prepare yourself for thrills, laughter, and horror, as the Theatre Artists Workshop's gifted ensemble of professional actors presents a special Halloween reading of the original 1927 stage adaptation of Bram Stoker's immortal classic, DRACULA! Friday, October 31 and Saturday, November 1 at 8 PM, and Sunday, November 2 at 3 PM. Featuring the script that introduced Bela Lugosi to Broadway audiences, the show presents Drew Denbaum of Stratford as Dracula, Jim Noble of Norwalk as van Helsing, Emilie Roberts of Weston as Lucy, Sean Hannon of Weston as Harker, Richard C. Leonard of Cos Cob as Renfield, Chilton Ryan of Weston as Seward, Frank Piazza of Bridgeport as the Attendant, Nadine Willig of Stratford as the Maid, and Betty Jinnette of Norwalk as the Narrator. P.J. Letersky of Westport is doing lighting and sound design. Directed by Mr. Denbaum. Seating is first come, first served. $10 donation at the door. For more information visit www.taworkshop.org.