Well, I'm back. I was supposed to write this one weeks ago, but I got very busy between work and my other freelance writing gig. So this had to be put on the back burner for a while. But now I have some time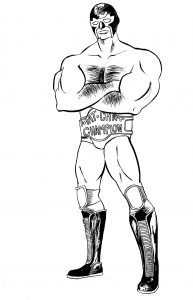 and I'm ready to roll, so let's get right back into it. 
IMPACT WRESTLING GETS SOME LOVE
Those who know me, know I've followed Impact from close to its inception. I've seen the company go through many ups and downs and never got the viciousness of its detractors. But right now, it seems like the company is in another bit of an upswing. (Fingers crossed.) Their recent Slammiversary PPV was a hit, even with jaded nerds in the IWC, and the company seems to be a bit of a roll. They've hired some great talent from Mexico, like Fenix and Pentagon, among a bunch of other talented luchadores and luchadoras, plus they've bolstered their roster with exciting indie talent such as Brian Cage and Johnny Impact (Mundo/Morrison). (There is a-lot of crossover between Impact and Lucha Underground these days. I like it.) They even signed one of the hottest free agent women's wrestlers in Tessa Blanchard to a long term contract. Austin Aries is as talented as ever. Plus, Sami Callihan and the company turned one vicious botch into a compelling storyline that morphed into other compelling storylines. Plus, it made Callihan one of the most in demand heels working right now. What a way to turn lemons into lemonade. Here's hoping they keep it up. I have to tell you, I enjoy watching Impact more  than RAW these days. Keep up the good work. 
WHAT'S GOING ON WITH THE WWE? 
Well, it seems like fans are getting extremely angry with the product. Especially, since they have an absentee champ in Brock Lesnar who seems more excited to be on UFC than WWE these days. Here's hoping Reigns finally takes the belt from him at SummerSlam. This has gotten ridiculous. I don't know why Lesnar is so protected at that company. It also seems like people are signaling the death knell of the company due to low ratings. I think that's a bit premature. It's still very much in the red. They just signed a lucrative deal for Smackdown with FOX. I just think it's rep has been tarnished because people are beginning to see there are other options out there. But I don't think it will do a WCW. After all, NXT is still great and Smackdown is still pretty decent, due to the talent on their roster. And unlike its owner, I think it's great to have many options when it comes to wrestling. Plus, there are more places for people to work. And I bet giving the way they've used Bobby Lashley on WWE, I wonder if he thinks he made a mistake rejoining the company. To say he was booked better in Impact is a major understatement. 
DO YOU LUCHA?
So, the fourth season of Lucha Underground has launched. I'm digging it. It's taking me a while to get used to the new arena and some of the new characters involved. Though, honestly, I will always find this show entertaining. I still look forward to watching it each week. Some people are long gone, but they've added some decent new talent, so let's see how the season plays out. Though, I think is going to be a shorter season, than the first three, due to its budget. It's still compelling enough that I want to keep watching it. 
NJPW IS ON FIRE
I must admit I don't get to watch enough NJPW because I only have so much money that can go towards only so many online subscription services. But what I do see is fantastic. I mean, who would have thought Chris Jericho (also doing some fantastic heel work) would become their Intercontinental Champion. Kenny Omega is now the IWGP Heavyweight Champion. Very smart moves for a company that is seeking further expansion into the US market. I would definitely like to see more. Plus, I don't think any of the top wrestlers in NJPW need to go to the WWE to officially make it. They make great money in Japan, they have a merch deal with a major American retail chain in Hot Topic, plus they get creative control, which is something they would never get in the WWE. Plus, before you say Vince has more money (which is true), I remember reading that AJ Styles turned down a more lucrative deal  at NJPW in order to return to the WWE. That's right, he made less joining the WWE. (Though it's probably still a huge chunk of change.) Maybe we just have tunnel vision in this country, because we keep referring to it as an indie, and it's totally not an indie. It's the second largest wrestling company in the world. It just doesn't have a big presence here. Hopefully, that will change. 
Well, that's it for this column. Hope you enjoyed reading it and looking at the wonderful piece of art from Chris Generis. I'm hoping next time we have a fresh piece of art for the column. I want to keep this interested. I've already talked to Chris briefly about this, and he's game, we just have to hash out the details. So look out for that, the next time this column runs.