Every time it's the same. I'll go to a friend's house, sit down on his comfortable couch, and proceed to yell comically at the television. My screaming isn't directed at just a particular show or commercial, and sometimes it comes without warning. To be honest, it's really just to get a laugh or assert my position as dominant idiot in the group. I don't have this profound hatred for television, and I guess there are even some great aspects of it. But when I think about it, I realize just how little TV I actually watch – probably less than two hours a week. I have a T.V in my bedroom, and I frequently make this conscious decision to not turn it on. There has to be a reason for it, right? Therefore, my screaming at the screen has to have a purpose, right? My veins pop from my neck for a cause, correct?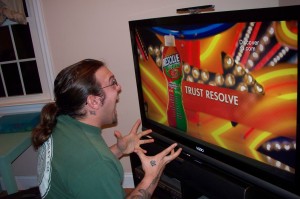 Maybe… Or maybe I'm just a ranting maniac. I better explain myself a bit, so nobody poisons my beer for the benefit of TV watching humanity. To give you a better feel of what it's like watching TV with me, I'll set up these prominent two points with a phrase in all capital letters that comes directly from my more common, jarring outbursts.
STOP TELLING ME HOW TO LIVE MY LIFE!!!!
This is obviously directed at commercials – a huge part of why I'd rather look at a black screen.
There's always been something mentally exhausting about commercials and advertising in general. Over the last few years TV has gone to great lengths to ensure that those of us who found commercials mildly annoying before, are now practicing their noose-tying when another half-an-hour sequence of car advertisements beam at us with the volume of a freight train horn and the brilliance of a deity's second coming. Now, let me break down that last run-on sentence. First, it doesn't seem to be a fair tradeoff when I watch five minutes of a program just to sit through a following ten minutes of commercials. To me, it really takes you out of whatever show you're watching. The whole mindset of teasing us with a tense, dramatic moment and then suddenly cutting to fifteen-hundred commercials doesn't fill me with anticipation; it fills me with the desire to hammer my TV into a two-dimensional square.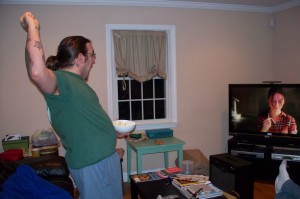 Secondly, how about lowering the volume a bit?  It's as if the marketers think we watch our favorite shows with the mute button on. It's also probably the reason I have to yell so much, trying to cut through the humorless drivel of a caveman talking about car insurance to express my anger. This brings me to my final gripe, which is directed at the writers who try to make commercials humorous, compelling, or creative in any way. Every once in a while, a really funny or creative commercial will zap onto the screen. This will be followed by fourteen terrible attempts at the same humor or wittiness. I can't see why it's so hard to come up with some inventive ways to advertise. For example, the price of broadcasting a commercial during the Super Bowl is staggering, so the creative element gets a big push in the right direction. But why is it only during the Super Bowl that we watch these extravagant and hilarious commercials? Does being funny and creative really cost that much money? If the overall content of advertising was at least compelling, I'd be more inclined to sit and enjoy TV like normal people and less inspired to spittle all over the screen with rage.
WHY SHOULD I GIVE A SHIT?!!!
Reality TV: Single-handedly making us all a little stupider day by day. I actually watched The Real World in the 90s and thought it was a good show. I admit, watching a bunch of people in their 20s go out and get stupidly drunk and stir up drama used to be entertaining. But it spawned an era of confessional reality TV shows that have a monopoly on cable programming. And after so many different shows, I really have a hard time giving a shit about these people. Whether the show is scripted or not doesn't really matter. Nothing about any of these shows give any respect to my intellect, and it amazes me that well-rounded and educated people get a kick out of watching a bunch of Long Island Italians go out to exert their AMAZING talents of drinking, getting into fights, fucking bimbos, and making egg sandwiches in Adidas sweatpants in the wee hours. I guess it could be funny here and there, but I can also think of much funnier, more captivating things to watch.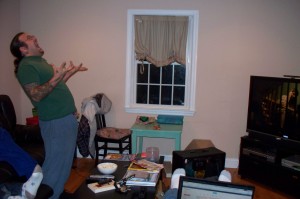 The major point here is, what are the amazing attributes of these reality TV stars that make me want to watch them try to make a birthday cake or browse through shoes at the mall? In fact, why would I want to watch even a really talented person browse through shoes at the mall? I suppose a lot of people don't have enough drama in their own lives, and need to watch it unfold between others to satisfy that need. As for me, I hate drama – especially when it's forced. And I'm not talking about expertly crafted drama in a great film or series; I'm talking about two morons continuously milking a shitty relationship by breaking up and getting back together up to fifty times an episode and still trying to make it emotional and captivating. It's bullshit and I can't buy into it. The same goes for all those teen-mom or Bridezilla shows. Scripted or not, nothing about their troubles is anything special or more tragic than millions of other Americans with the same problems. In short – why should I give a shit about them?
For your extra entertainment, I'll just end this rant by listing a bunch of examples of my unintelligible and eyebrow-raising vocal eruptions. These are directed towards specific shows and they'll probably help with my label as a hater. Enjoy!
Criminal Minds: FOR FUCK'S SAKE REID, STOP KNOWING ABOUT EVERYTHING A LOT BETTER THAN EVERYONE ELSE! AND WOULD YOU PLEASE STUTTER OR FLUB UP A FUCKING WORD WHEN SPEAKING HERE AND THERE?
Jersey Shore: SAMMI AND RONNIE, FUCKING BREAK UP ALREADY OR YOU'LL FORCE ME TO PRAY FOR YOUR GENITALS TO FESTER!!
Pawn Stars: THOSE TWO IDIOTIC SONS DON'T DO ANYTHING. AND HERE I AM BUSTING MY ASS AT WORK TO MAKE PENNIES. SWALLOW A FORK YOU SHIT-DICKS!
Seinfeld: GODDAMNIT JERRY, YOUR SHOW WAS HILARIOUS. CAN'T YOU PLEASE REFLECT THAT IN YOUR STAND-UP COMEDY?!
American Idol: SIMON'S NOT ON THIS SHOW ANYMORE, WHY IS IT STILL ON?! WHO'S WATCHING THIS???!!!
Everybody Loves Raymond: FOR THE LOVE OF GOD RAYMOND, WHEN YOUR WIFE ASKS YOU A QUESTION, JUST ANSWER IT HONESTLY SO YOU DON'T PUT YOURSELF IN A HOLE AND WE HAVE TO CONTINUE THIS AWFUL SHOW FOR ANOTHER FIFTEEN MINUTES!!
Seth MacFarlane shows other than Family Guy: SHUT UP!!!!!
Any sports pre-game, half-time, post-game show: WE KNOW, FUCKFACES. I JUST SPENT THE LAST FIVE HOURS WATCHING THE GAME FOR MYSELF!
Ghost Hunters: BOY, DON'T YOU JUST LOVE WATCHING A BUNCH OF DUDES TALK TO NOBODY IN A DARK HOUSE FOR AN HOUR?!
Desperate Housewives: I DESPERATELY NEED SOMEONE TO TURN THIS OFF!!!
True Blood: LET ME GUESS, THEY'RE UNDEAD AND THEY FEED ON THE BLOOD OF THE LIVING FOR SUSTENANCE. ABSOLUTELY GENIUS AND UNIQUE…THANK YOU!!!
Extreme Couponing: WHY IS THIS A SHOW??!!
My Super Sweet 16: GET RAPED BY A CARIBOU, YOU BRAT!!!