Today's Nerd Talk is from the land down under — Australian metal solo artist Cam Bird takes the reigns!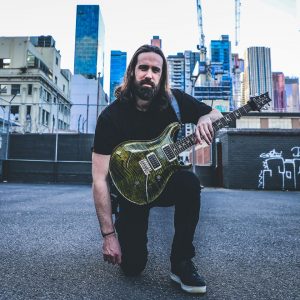 Oh man I'm excited to unleash my inner nerd with Alternative Control. Hope you guys are ready for this!
Movies
I'm a massive movie buff. I've literally exhausted pretty much all of the streaming libraries like Netflix and some of the others we get here in Australia.
Here are some of my top ones:
The Matrix
I've seen this movie over 120 times, I lost count after that viewing. I think it is still one of the most revolutionary films that just got so much right in terms of its story, philosophy, action, cinematography, special effects and acting performances. It doesn't get much better for me.
Bladerunner 2049 
I love pretty much all of Denis Villenueves work and find him so inspiring as a director and film maker, couple him with the chops of Ryan Gosling and Harrison Ford….ohhh baby! what more can you ask for. Denis knows how to do super dark, gritty and compelling movies that tell an amazing story, keep you on the edge of your seat and climax into epic moments of stellar action. He works with killer composers that combine his visuals with mind blowing scores and soundtracks. Bladerunner 2049 hits all those marks for me.
Star Wars: A New Hope
It's a classic. Enough said really. I love this film, I love the world building of it and yes, I am a massive Star Wars buff but every time I rematch this movie its fun, adventurous, exciting and has amazing characters. The Death Star trench scene has to be a highlight of modern cinema for me as well.
Books
The Lord of The Rings
I'm not the biggest reader as I don't have a lot of patience for it. I saw that but I managed to read the entire Lord of The Rings trilogy a few years back. This would be up there for me 😉 Beautiful storytelling and actually kept me reading a book the whole way through which is a very rare thing for me.
Games
The Legend of Zelda: Ocarina of Time
This is more my territory. I grew up with a Nintendo 64 and this game changed my life. I love it to this day and it brings back so many happy and nostalgic memories of my childhood.
Resident Evil
The first game to truly scare me. I played the remake on Nintendo Gamecube and it gave me nightmares, but kept me coming back for more. Something about the survival horror thing that this game just nailed that gives you such a thrill.
Star Wars Battlefront
As I said, I'm a massive Star Wars fan and this game felt like it thrust me right into the battlefield and gave me an immersive experience of what it would actually be like to be fighting in a galactic war. Love this game 🙂
Goldeneye
Does it get any better for a first person shooter?! Enough said. This game is the ultimate, especially slappers only split screen multiplayer mode. A recipe for destroying any friendship lol!
Connect with Cam on Facebook, bandcamp, and the web.
For more from Alternative Control, find us on Facebook, Twitter, Instagram, Soundcloud, and bandcamp.