I'm pleased and excited to talk about some of the interests that are outside of the typical metal and music topics. A lot of these 'nerdy' things are influential to the creative process for sure. Let's kick things off with…
Favorite Book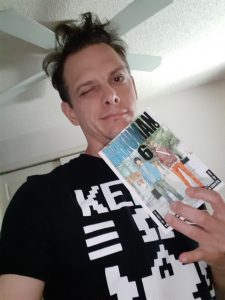 I'll start off with some full disclosure. I don't read a lot of books these days. Most recently I read a book for work (the day job) entitled Silver Bullets: A  Guide to Initiative Problems, Adventure Games, & Trust Activities. It's cool, but not as cool as reading manga. I read a lot of manga. A lot. My favorite series has got to be Bakuman by Tsugumi Ohba and Takeshi Obata. These are the same guys that created the hit Death Note.
Bakuman had such a profound impact on me. I read the series during a time when I was coming off methadone, getting sober, and returning to music after several years of hiatus. The epic series plays out in a real world setting and is about some kids in high school who want to become manga artists for Shonen Jump. Their journey to achieve success had me feeling quite nostalgic for my high school days of playing in metal bands.
This series tugged on every one of my freshly rediscovered emotions. It had me laughing, crying and rooting for Muto Ashirogi the whole way through the 20 volume series! I'm usually a fan of fantasy or sci-fi, but this coming of age/slice of life is incredible. I'd even pick Bakuman over Death Note, which is a phenomenal series itself.
There are a few nods to this series in the Need All Exchange song "Sleep 4 Squares."
Favorite Movie
Okay, some more disclosure. I don't watch many movies. It'd be safe to talk Star Wars. I'm sure I'd be able to do that all day, however I don't consider myself a top level Star Wars nerd. If there's something I really am excited about, I'll do my best to support it by watching a theatrical release.
Most recently, I went to see the first showing of Alita Battle Angel with my best friends. We had a blast! Hollywood adaptations of manga are incredibly difficult to pull off, and this was probably the best I've seen. The bar may have been low, but this movie skyrocketed well above it.
This is the best thing James Cameron and Robert Rodriguez have ever done. I read somewhere that the creator Yukito Kishiro claimed it is the  "greatest movie in the world." I have to agree. I'm glad it did well worldwide, and hope we get the rest of the series adapted. I'm also honored that this movie was filmed in Texas.
Favorite Video Game
The final disclosure is that I'm a lifelong gamer and collector.  I'm a huge JRPG guy. I've cooled off recently, and mostly only have time for brain and puzzle games. The last series that I really got into was the visual novel/adventure game Zero Escape.
This series took everything that I love and hooked me in. It's a dark and thought provoking ride. I couldn't help but do everything there is to do in this game. I love that it's a novel and a puzzle game that uses manga style character development. I'm grateful that creator Kotaro Uchikoshi was able to get the third and final installment released.
I intend to get this game on every platform it is ever released on, as well as complete the collectors watch sets. I can't really say much else about this series without giving too much away. There are heavy nods to this game in the Need All Exchange song "Crystal Clarity."
There you have it. This is the kind of nerd stuff I'm into. If you like to talk about these nerdy things too, then feel free to hit me up on the following socials…
Twitter, Instagram, Facebook, TikTok: @joaquincarcass or @needallexchange
Editor's Note: Thank you Joaquin for this edition of Nerd Talk!  Find Need All Exchange on Facebook to stay up to date with their latest news, and subscribe to their YouTube channel here.
For more from Alternative Control, find us on Facebook, Twitter, Instagram, Soundcloud, and bandcamp.