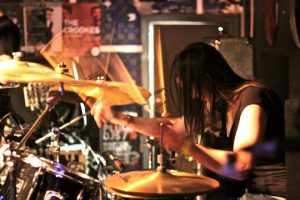 This week in Nerd Talk, please welcome drummer Hayley Mcintyre of UK sludge merchants Nomad.  Nomad's debut full length Feral comes out later this week — will Hayley's nerdy picks be as "feral" as her band's music?  Find out below…
Video Games
Action Fighter – Sega Master System
I'm an old lady so it's gotta be this retro game for me. I was obsessed with my Sega Master System before I started playing drums. Action Fighter was a total banger, I think I just enjoyed blowing shit up! I was even angry as a child. Ha! Fun fact: I'm pretty sure this game was released the year I was born.
Films
Midnight in Paris – Directed by Woody Allen
Too many favorite films to mention but this is one that I watch repeatedly. People are generally shocked by my film choices as they expect me to be really into horror movies judging from how our band sound & the music I'm into.
This film is a total escape from reality for me. Sometimes it's much easier to romance about a past era rather than cope in the present day, described in the film as Golden Age Thinking.
I adore Paris, I love the soundtrack & Marion Cotillard is one of my favorite actresses. Woody Allen captures what it's like to romanticize a particular era in time perfectly!
Books
My Stroke of Insight – Jill Bolte Taylor
I rarely read books as I can't seem to find the time in my daily schedule & my attention span often fails me. I don't enjoy fiction so I only read biographies or real life stories such as this.
The author describes her account of having a stroke, the different stages of recovery & the insight this gave her into the different functions of the two brain hemispheres. The book is such an easy read & also really interesting on a spiritual level.
After all the Stephen King and Terry Pratchett Nerd Talks we've been getting, I wasn't expecting someone to discuss a nonfiction book about recovering from a stroke.  Bonus nerd points for bringing a different perspective!  Check out Nomad's upcoming album Feral, which will be released on May 31st 2018 via APF Records.
Thanks to Dewar PR for hooking up this edition of Nerd Talk.   For more from Alternative Control, find us on Facebook, Twitter, Instagram, Soundcloud, and bandcamp.