Brevity is next to godliness with this Nerd Talk from Italy's Void of Sleep…..  Check out what these occult progressive metallers have to say about their favorite movies, books, and video games.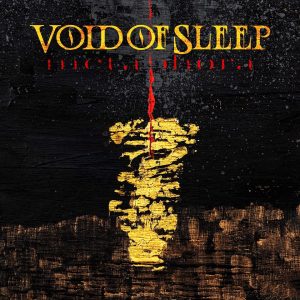 Favorite Movie
 Gale: It's too difficult to say only a single film. I've always loved gangster movies, so I say The Godfather.
Burdo: I'm a sort of old fashioned horror cult movie big fan and I mainly love the Italian ones — probably something between Deep Red by Dario Argento and The Beyond by Lucio Fulci.
 Allo: A Clockwork Orange (S. Kubrick-1971) – The first time I saw this movie, I was shocked!!
Momo: Not a big movie person, but off the top of my head it'd be Cinema Paradiso in terms of how it affected me on an emotional level (never watched it again) and Krzysztof Kieślowski's Red.
Andrea: Alien (1979), I think I've watched it forty or fifty times. The way it got under my skin still haunts me.
Favorite Book
Gale: I'm not a great reader; I've read about fifty books in my life and I really liked the Hap & Leonard saga of Lansdale.
Burdo: I can't remember nothing more incredible as reading J.R.R.Tolkien's Lord of the Rings when I was a kid.
Allo: I've never been a great reader but I've always loved musical biographies; No One Here Gets Out Alive (1980)  by Jim Morrison is my favourite.
Momo: Immortality by Milan Kundera.
Andrea: Difficult one. I'd say The End Of Eternity by Isaac Asimov. It was the one that got me into science fiction as a kid.
Favorite Game
Gale: When I was a kid, I loved playing Sensible Soccer; I spent entire afternoons. I liked play soccer games with my friends, but I haven't played video games for years.
Burdo: I'm not a gamer and I've never had a lot of fascination — but anyway if I have to say one, I say Dragon's Lair.
Allo: Street Fighter II — this game had no secrets for me.
Momo: Metal Gear Solid: Snake Eater, no contest.
Andrea: Diablo without any doubt.
Void of Sleep  just released their third album, Metaphora, on March 27th via Aural Music.  Watch and listen to the single "Unfair Judgement" below:
For more from Alternative Control, find us on Facebook, Twitter, Instagram, Soundcloud, and bandcamp.  Plus, follow our 2020 coverage playlist on Spotify to hear Void of Sleep, My Dying Bride and many more!