There's been a lot of understandable angst on the internet lately, as COVID-19 gains steam across the United States and many areas are entering their third week of school and work closures — if your only problem is that you're working from home with cabin fever, you're one of the lucky ones.  (*raises hand)
But thankfully, there's at least some great music to look forward to this month.  The Women of Doom compilation will be released on April 10th; preorders are available now and Amy Tung Barrysmith's ethereal track "Broken" just premiered on New Noise today.  The compilation features all new songs, a cross-section that spans doom sensibilities from Mlny Parson's Americana-tinged ballad "A Skeleton is Born" to Deathbell's ominous, organ-driven dirge "Coldclaw."
Each song has its own unique flavor, but overall the collection is contemplative; it's clear that the artists took full advantage of the opportunity to present music outside of their bands' usual scope.  Favorite track: Besvarjelsen, "A Curse to be Broken."   If you missed out on being a Kickstarter backer, preorder now through bandcamp.  (Sorry, no cool patch for you!  #ha)
Read AltCtrl's interview with Women of Doom contributors here.
Speaking of Women of Doom, Nighthawk from Heavy Temple — whose track "Astral Hand" opens the comp — also has some new music coming out with her other group, Narcos Family Band.  Satan's Favorites will be released this Friday, eight tracks of 60s-inspired psychedelic riffage.  The Philly sextet sounds like it's about to go off the rails at anytime, a party from a different era.  The saxophone and dual vocals are standout features on this one — refreshing to hear something that sounds different from every. other. band.  Favorite track: "Black Hat Boogie."
Now for some news from friends across the pond: Belgian indie label POLDERRECORDS is going to have a pretty rad compilation coming out on digital and vinyl in June.  I'm helping with some of the copy on this and I don't know how much I should say…. But in the process, I've learned what a "polder" is — y'know dikes?  Well, polders are the land that's created by building dikes.  Apparently, they are cold, windy, and conducive to some mind-bending creativity!  #themoreyouknow
And now for the last bit of news, New England Stoner & Doom Festival has been rescheduled for May 14th-16th, 2021.  Headliners Earthride, Tyrant, and Warrior Soul are still booked, and all current ticket purchases will remain valid.  Will Maryland Doomfest 2020 (scheduled for late June) meet the same fate?  Let's cross our fingers that the curve has been flattened by then.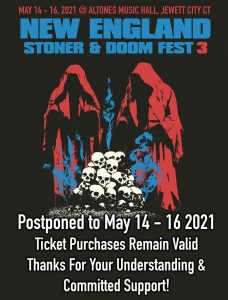 A final thought for folks reading in AltCtrl's home state of Connecticut: one of our favorite local music venues, Cherry Street Station, is having an online gift certificate sale and virtual tip jar.  Learn more here and support the venue that's supported you by sending contributions to paypal.me/SAndrade40.  If bars can reopen in time for Bacon Fest, you know that's gonna be off the chain this year!
For more from Alternative Control, find us on Facebook, Twitter, Instagram, Soundcloud, and bandcamp.  Plus, follow our 2020 coverage playlist on Spotify to hear heavy music from around the world!