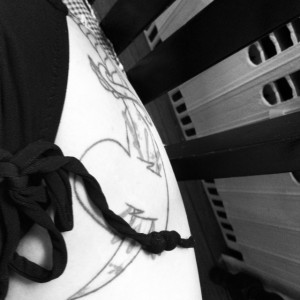 I'm glad I never had the money to implement the grand tattoo plans I had as a teenager.  Sleeve of Saint Anthony of Padua?  Kind of glad that's not on my arm right now.
But soon I'll be making a pilgrimage to Branford, Mecca of the Universe, to get one of my two deftly hidden tattoos finished.  The handiwork on this one was started by Nick Trammel of Transcend Tattoo, and I've finally made an appointment with him to fill it in.
Part of the reason I haven't implemented any of my less imposing tattoo visions, usually involving a bass clef or some gloomy adage, is that I can't decide on a place to put them. Visible tattoos aren't for me, so that takes out the arms and the lower legs.  I also don't want to get any ink on my back; although it would be out of sight to the general public, I can't think of something I want my husband to be looking at while…
So anyhow, that leaves my stomach and thighs — not the most flattering areas for all of us non-supermodels out there.  Maybe one day underneath the teacher's clothes, there will be an Eden-esque bass clef garden from mid-thigh to waist… But I guess I should worry about one thing at a time.
On a side note, tattoo enthusiasts should check out the Body of Work art exhibit at The Mercurial Gallery.  There are a lot of really badass paintings of skulls, La Santissima Muerte, old-style flash art… Pieces range in price from $50 or $60 to a couple hundred dollars, and would definitely make your house look cooler.
Aaaaaaaaand… That's all, folks!  Wish me luck in Branford.
Transcend Tattoo and Art Gallery is located at 906 West Main Street, Branford, CT. (203)481-9372
The Mercurial Gallery is located at 11 Library Place, Danbury, CT.  (203)417-2215  The Body of Work exhibit will be on display through 7/20/12, with a special performance by The Hat City Ramblers & Russ Preston Saturday, July 7 at 6:30pm.