Do you find yourself sitting in front of the TV for several hours each evening?  Do you want a new hobby that doesn't involve getting off the couch?  Try crocheting useless items for your friends and family!
Seriously though, crocheting is fun and relaxing – and if you can figure out how to make a straight line, you can fashion beautiful scarves, bowl pouches, potholders, and baby blankets for everyone you know.  (Whether or not they want any of those things.)
The supplies you need to begin this cheap and easy hobby are yarn, a medium sized crochet hook, and a yarn needle to hide loose ends.  Light colored, worsted weight yarn is good for beginners because it's easier to handle and to see different parts of the stitches.
Sometimes the best way to learn something is by seeing it done, so watch the video below to learn a chain stitch, the basis for all crochet stitches:
Once you've got that down, turn it around for a single crochet stitch:
If you want to get fancy, try the double crochet stitch:
Bowl pouches involve a little bit of sewing as well.  All the masterpieces pictured in this article have been "free-form."  I haven't figured out an efficient way of making the padding yet, and I've done it differently every time – but here are the basic steps: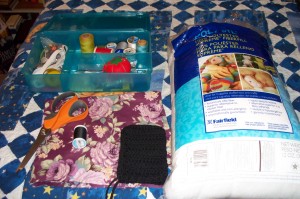 Step 1: Crochet a "potholder" using a single or double crochet stitch.  (Basically just make a rectangle that is twice as wide as you want your bowl pouch to be.)
Step 2: To form the pouch, fold the rectangle in half and bind two sides with a single crochet stitch.
Step 3: Magically create padding with fabric and cotton stuffing, and sew it to either side of the pouch.
Step 4: Turn the pouch outside-in.
Step 5: Use a yarn needle to weave a drawstring around the opening.
And presto!  A lovely handmade bowl pouch for one of your stoner friends – or a glasses case for a non-stoner.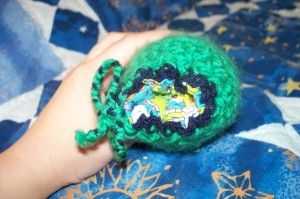 What kinds of "crafty" things do you enjoy creating?  Email your pictures to us or post them on our Facebook page!