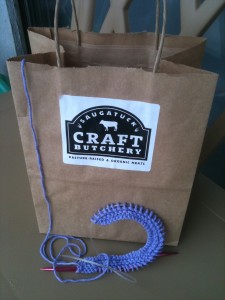 Yes, there's actually a World Wide Knit In Public Day. And actually it's a whole bunch of days, June 9 – 17. It's not about simply going out in public and knitting, like some writers (for example, me) might think. It was actually started in 2005 by a knitter who felt the craft was an isolating one, so she wanted a way for knitters to come out into the fresh air and discover other knitters and to (GASP!) chat with them.
A search of the World Wide Knit In Public Day site (www.wwkipday.com) reveals the only official WWKIP Day event in our area is at Westport Yarns, 582 Post Road East, 11:00 am – 8:00 pm, June 14, 2012.
Now, it just so happens that I knit out of a Saugatuck Craft Butchery bag. It holds the yarn in place when I'm knitting and holds the entire project when I'm not. I used to use the plain ones from the liquor store, but now I opt for the fancy one with handles and a Saugatuck Craft Butchery sticker on it – proving to the general public I am not only a craftswoman but a discerning meat eater.
Oh, yeah, and June 9 is International Yarn Bombing Day (www.yarnbombing.com). Now that's some cool shit. Basically it's graffiti with yarn. It started in the U.S. when a woman knit a cozy for her door handle. Soon people were knitting cozies for trees, bike racks, that bull on Wall Street. Yarn bombing is technically illegal, though, so don't (wink, wink) do it anywhere that could get you busted.
I bet you didn't know knitting was so bad ass. It is.
So get your ass out in public and wink, wink, you know, (a la Family Guy) come on, knit a little something. Or crochet. Decorate yourself, your possessions and possibly your neighborhood. Just don't get caught. And if you do get caught you didn't hear about this from me. Got it? Good.