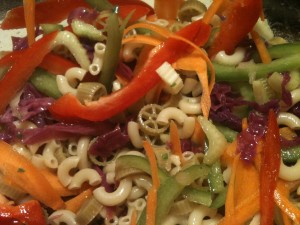 This is the time of year it starts to get hot in my apartment. We get hit by the sun for the entire second half of the day and the temperature in my house can easily get into the 80's, even with two air conditioners going. Who wants to cook in that? Not me. One of my favorite things to eat in the heat is cold pasta salad. And I don't make it like your local supermarket with mayonnaise or whatever that icky white substance is; I make it with homemade dressing and a rainbow of veggies for both beauty and nutrition.
Good pasta salad becomes great pasta salad the second day, and if you make enough it can last you a few days. Start off with your favorite pasta; I used Ronzoni Smart Taste and Barillia Spinach and Zucchini for the pasta salad in the photo. Cook the pasta and then pour into a colander and toss immediately with olive oil. This prevents your pasta from sticking. While the pasta cooks and cools you can prep some veggies. Variety in color is key because every different color of vegetable has different vitamins and nutrients. So go ahead and put a few colors of peppers in there; they are available in red, yellow, orange and green year round. During the Farmers Market season you can get colors you've never imagined. Make carrot ribbons with a peeler. Steam and shock some broccoli, green beans, cauliflower. Then of course you can add chicken, cheese, steak, you can add lettuce for all I care. Whatever you want, that's what I'm saying.
For the dressing blend together 1 part vinegar, 2 parts oil, salt, pepper, herbs, a little onion, a clove of garlic. As you can see this is a very precise recipe. The earth will explode if you get it wrong. Make sure it tastes good before you pour it all over your hard work.
Toss your veggies and pasta together in a big bowl. Slowly, and in small increments, add your ridiculously tasty dressing and continue to toss the pasta salad until it is covered to your liking. I happen to believe pasta salad drowning in dressing is a violation of the code of ethics. I also know the pasta is going to absorb some of the dressing so I may have to add a tad later, so into the fridge goes the remainder of the homemade dressing.
Here are a few ideas to get you started:
Italian style pasta salad – Roasted peppers, fresh sliced cherry tomatoes, olives, shredded fresh basil, pine nuts and fresh mozzarella.
Rainbow pasta salad – Red and Yellow peppers, celery, carrots, steamed broccoli, purple cabbage (I slice my cabbage thin and braise it in water and red wine vinegar until it's tender.)
Holiday dinner pasta salad – Green beans, sliced almonds, dried cranberries, carrots, celery and chunks of turkey or chicken with sage dressing.
Whatever you make, make it your own. And let it sit in the fridge and get cool with itself for a while before you eat it, at least a couple hours. Taste and season (or re-dress) before serving. Remember, salad dressing at the bottom of the bowl isn't doing anyone justice. Serve by itself or as a side dish. Like, with a hot dog, because the pasta salad is so healthy it's like canceling out the negative effects of the hot dog. Not really. But eat your pasta salad, it's cool.