Tommy Concrete is a name that resonates within the metal and punk scenes, both within his native Scotland and further afield. His resume is eclectic, from his time in legendary punks The Exploited to fronting Man of the Hour, playing with Jackal-Headed Guard of the Dead, publishing a horror novel based on extreme metal tape trading, and his own diverse solo work.
And today, Tommy tells all… About his battle vest!  An epic garment if there ever was one…
Heavy Metal Explosion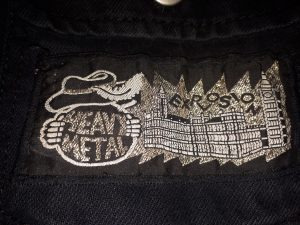 Love this, the Houses of Parliament being blown up by Guy Fawkes in the name of heavy metal…. best patch ever to be honest.
Motörhead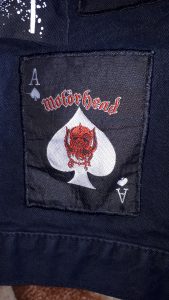 Well for me Motörhead are the be all and end all of music for me… it was very difficult to not just cover the entire thing in Motörhead patches to be honest… sometimes I feel a bit guilty that they are only represented as one wee patch… but maybe I will just fill the rest up with Motörhead, although I am trying to hold off and only have one patch per band…. largely for this very reason…. right I am stopping talking about Motörhead now before I turn this entire article about them!
King Diamond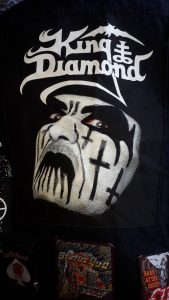 Yeah so I got this when we went to see King Diamond perform Abigail in its entirety in London a few years back, which was an utterly epic experience and a mind bending show. Not really one for big fancy sets and 'characters' on stage or anything usually, but there is always the exception to the rule and this was it. Brings back important memories as that gig was when me and my now wife first announced to anyone that we were getting married, so the whole gig ended up as a sort of celebration of that really. King Diamond isn't to be honest one of my favourite bands and I really wanted a big Motörhead one for the back, but the gig and even was such a cool thing that it made sense, plus Mikkey Dee plays on Abigail so there is a sort of a Motörhead connection…
Whitesnake (old logo!)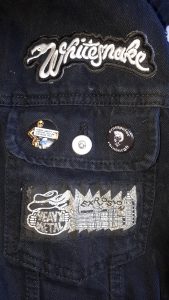 Yeah, so I was really late to the party for Whitesnake, only seriously got into them about two years ago, and I had a serious obsession for a couple of months. Back in the day, when I was first getting into rock and metal, I perceived Whitesnake as one of those fucking American million dollar rapey rapey glam shite bands and so avoided them like the plague. It was only when I figured out that the early stuff is a totally different beast, with some albums having more members of Deep Purple on them than actual Deep Purple albums! I love that moment in history when Hard Rock sort of became Heavy Metal but not quite, we used to call it 'Greb' back in the day… and 'old logo' Whitesnake is absolutely greb, ultimate example of a greb band is of course Motörhead.
Sexist as fuck and very cringey still but Coverdale did explain himself by saying 'Hey, I never claimed to be Billy Shakespeare or anything' hahaha. Me and Paddy Tobin who produced my Wizards Bones solo album had a text war with made up Whitesnake songs that went on for months, with imaginary hits like Can't Stop Making Love In The Streets In The Night, Lying In The City Of Love Tonight, I Love Breaking My Heart In The Night, Stop Lying About Making Love, Crying In The City about Lying about Love in the Night… On The Wizards Bones there is a song just called 'Tonight' which we thought was the ultimate distillation of David Coverdale…
Amorphis (old logo!)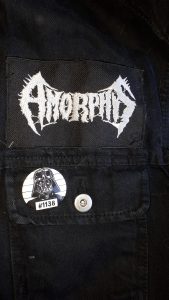 Got this when we went to see Amorphis at the Cathouse in Glasgow a few years ago…. Hands down the single most outstanding live vocal performance I have ever been lucky enough to experience. I absolutely love Amorphis, right from their early death doom roots right through all their eras into their almost indefinable mixture of genres they mash together now. I spent millions on merch that night… I got the old logo patch because I wanted to show a bit of old school respect as they are from my era. Definitely my favourite band currently going, they were essentially promoted when Lemmy died and Motörhead ceased to be an active band.
Ozzy Osbourne – Bark At The Moon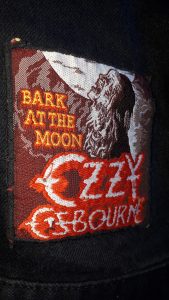 Fucking Hell. This is immense, I think Ozzy is a superb werewolf. It's quite difficult to see the Bark at the Moon video, as it appears to have disappeared from Youtube, maybe because Ozzy detests it. There is a really funny bit about filming it in his autobiography, he was fucked out of his head on god knows how many bottles of spirits and apparently most of the video didn't get filmed as he was too off his head to do it, that and the bits he flat out refused to do. I saw this video before I had seen any werewolf films, or even any real horror, so for me Ozzy is the beginning of my life long werewolf obsession, and yeah, Tommy Concrete and the Werewolves can't exist without Bark At The Fucking Moon! The video is so utterly absurd and surreal it is genius. We would do it as a cover if Jake E Lee's godlike playing wasn't so hopelessly out of my reach. I have seen a few bands do it as a heavier cover, but it's just lame when folk dumb down the riffs and miss solos out. If you are gonna do it, do it right… I think I paid quite a bit for this patch, I got it second hand and, yeah, I am not telling you how much I paid haha.
Vulturic Eye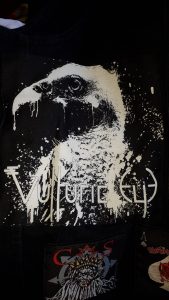 Vulturic Eye are a nihilistic progressive metal band from the UK and the very definition of an underground act, they put out a couple of EP's and a comic through my Howling Invocations label, back when I had the energy to put bands out that didn't have me in them. It's a great design, done by Vic Victory of Victory art, who did the art for my Wizards Bones & Unrelaxed albums, he also designed the Tommy Concrete and the Werewolves logo… but best of all, he played bass in Conquest of Steel! I don't have enough of my pals bands represented on here yet, but that will be rectified soon enough.
Morbid Angel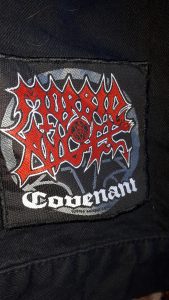 I got this when Tommy Concrete and the Werewolves had a band outing to see Morbid Angel play their Covenant album in it's entirety… We are all big Morbid Angel fans and they really didn't disappoint. I had seen them before on the Gateways to Annihilation tour down when I lived in London, and they were superb then also… This time though it was great to see Evil Dave take the mic… such a funny twat…. when they came on, he stands there in his intense satan/fetish clobber and holds his wrist up as if he is looking at a watch and said 'It's time….. for evil', fucking hell if they had of just walked offstage at that point without playing a note I would have been 100% satisfied, absolutely amazing nonsense. I went right up to the front to watch Trey on guitar close up, not done that for years, but it was so good, made me feel twenty years younger haha.
Status Quo – End of the Road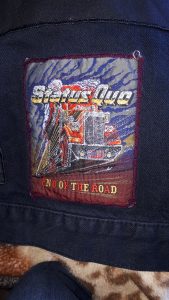 This patch is of one of Status Quo's many farewell tours. Now I personally think Status Quo are one of, if not the most underrated / misunderstood bands in all of hard rock. Over here in the UK, most people know them by the music they made in the 80's and onwards… which is a very very watered down and 'safe' version of the pioneering heavy rock n roll they trailblazed in the 70's… if you don't know Quo, or think you know Quo, I would like to redirect you to the Piledriver album from 1973, the standout track being Big Fat Mama, or perhaps Rain from The Blue For You album… they deserve credit for being one of the first bands to be loud for loud's sake, fast for fasts sake, and although not strictly 'heavy' they did pioneer 'accenting every beat', they didn't dilute the attack with swing or groove…. not a fan of groove because heavy things don't bounce, they land with a bang, and that's 70's quo…. fun fact, ever wonder how AC/DC turned from a glammy rock band on 74 Jailbreak to the hard rock monster of their debut… the answer is they came to England, saw Status Quo and changed their attitude sharpish!
Conquest of Steel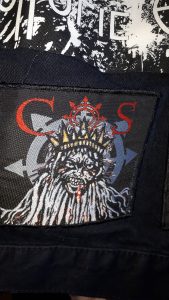 Yeah these guys were without doubt one of the greatest uk heavy metal bands of all if time, if not the world, if not ever… I loved them from the first second I heard them and still love them…. they are like Iron Maiden, Manowar, W.A.S.P. and any true metal…. best thing about them is it is 100% serious, no poser ironic metal revival shit…. just true metal, the sort of metal you cannot stop…. EVER…. a very important band for the UK scene, as they were on the go mainly during a time when the scourge of Nu-Metal was still going and every metal band wanted to express exactly how metal they weren't rather than how metal they were! My latest solo EP Trauma has artwork that was commissioned for Conquest of Steel but they thought it was too ridiculous, so it is my great honour that they gave it to me to use 🙂
Scumpulse (badge)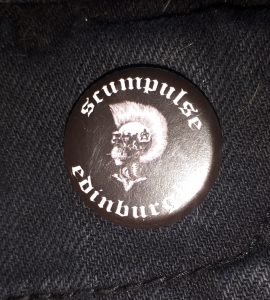 Scumpulse are probably Scotland's best band right now, in my opinion. A fantastic mix of Immortal, Discharge and Yngwie Malmsteen (seriously)… crusty horrible people who shit in the snare drums of poser bands and all power to them for being like that. Tommy Concrete and the Werewolves have done a tonne of gigs with these guys and long may that continue, they are pretty cool politically and like us are strong supporters of Scottish Independence.
Yeah, so thanks Jessie for giving me this forum to talk about my denim, it's been fun 🙂
Find Tommy Concrete's music on bandcamp!
For more from Alternative Control, find us on Facebook, Twitter, Instagram, Soundcloud, and bandcamp.