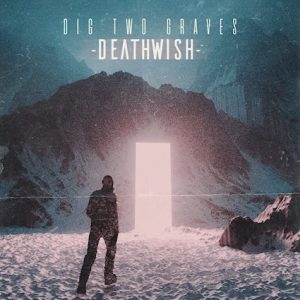 Opening the promo for Dig Two Graves' upcoming EP Deathwish, I felt old for about the twenty-fifth time this week — and it's only Tuesday.  Let's just say that "progressive metalcore" are two words not usually found in my music lexicon.
But these young bros have some pensive sentiments to share amidst the breakdowns and gratuitous guitar squeals.  "The entire album is primarily based around hurt and loss," says the band.  "We tried to get the message of solitude across with the subtle space theme. If you can hear what we put in the music, it's a feeling of genuine loneliness."  I thought Dig Two Graves was at their best about two minutes into the third track "Wick," where they take a cue from classic rockers The Black Dahlia Murder with a badass minor breakdown, but putting their own spin on it using a contrasting single-note keyboard line.
That song didn't have a video, but check out this vid for the EP's title track — it's set in the near future, where cars drive themselves!
Connect With Dig Two Graves
Website
Facebook
Instagram
Twitter
Soundcloud
Youtube Channel
For more from Alternative Control, find us on Facebook, Twitter, Instagram, Soundcloud, and bandcamp.
This post was sponsored by Independent Music Promotions.  All opinions are our own.