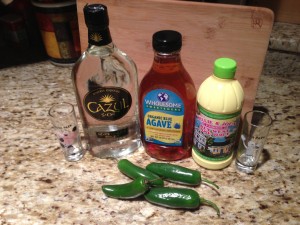 by Jesse Styles
The Margarita Schaffer
This recipe makes one large margarita or two small ones.
What you will need:
– 3 3/4 oz.  Silver Tequila of Your Choice (The cheap stuff works best for mixing)*
– 2 ½ oz Lime Juice
– 1 oz Agave Nectar
– Cocktail Shaker
– Double Sided Jigger (My jigger uses 1 ¼ oz & 1 oz measurements)
– Shot Glass(es) (required)
– 33¢ Worth of Jalapeños (Optional)
-Sea Salt (Optional)
Note: If you want jalapeño infused tequila take your 30 cents worth of peppers (3-4) and slice them down the middle and add them to your bottle of tequila over night. This will add a nice heat to your Margarita Schaffer.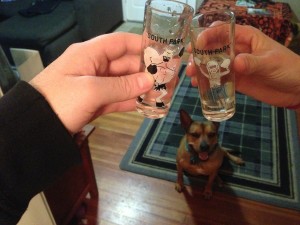 Step 1-
Fill your shot glasses with tequila and down that shit. Now that you are nice and relaxed, you're ready for the mixology. You'll also now have room in your bottle to add your sliced jalapeños if you dare.
Step 2-
If you'd enjoy salt around the rim of your Margarita Schaffer, then follow this step…but if you're faint of heart then skip to step 3.
Take two small plates and coat the bottom of one with lime juice and the other with sea salt.
Take your glass and dip the rim into the lime juice, followed by the salt.
Shake off any excess salt and fill your glass with ice.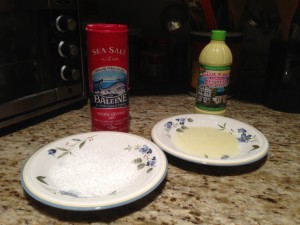 Step 3-
For those of you that skipped the salty rim-job, now would be the time to add ice to your glass.
Measure out your tequila, lime juice, and agave nectar using your jigger and pour them into your cocktail shaker.
Step 4-
This is the most important step when making any margarita:
SHAKE THE SHIT OUT OF IT!!!! In order to get the sweetness in your margarita you need to break down the agave nectar, so shaking is the crucial factor. If your mix has a nice froth on top you'll know you shook it all night long.
Step 5-
Pour your creation into your ice-filled and possibly salt-rimmed glass. Serve with a side of nachos and guacamole, tacos, etc.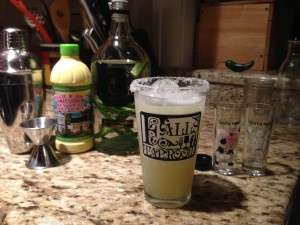 Ya done good, kid!  Feliz Cinco de Mayo!