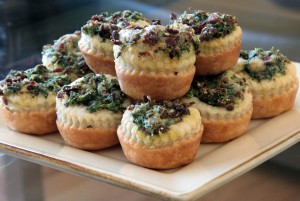 By Alicia Ghio
When it comes to party snacks I often cannot resist the classics – chips and onion dip, loaded nachos, and yes, anything made with puff pastry. I know it goes against my "healthy eating philosophy" but I love all the fluffy, buttery goodness of puff pastry. Hey, everything in moderation, right?
Well, when it comes time for snacks during this year's "big game," I came up with a way to rationalize my indulgence. I added something healthy – fresh (and local) spinach. Okay, so it's a healthy vegetable enveloped by buttery pastry, but it's a vegetable nonetheless.
Spinach Puffs
Makes 12 puffs
Ingredients
1 cup fresh spinach
1 Tablespoon sun-dried tomatoes (not packed in oil)
2 garlic cloves
2 strips cooked bacon
¼ cup grated Parmesan cheese
1 puff pastry sheet
Directions
Preheat oven to 375 degree Fahrenheit.
In a food processor add the spinach, sun-dried tomatoes, garlic cloves and cooked bacon. Pulse into a fine texture.
Scrap into a small bowl and stir in the Parmesan cheese. Set aside.
From one thawed puff pastry sheet cut out twelve 2-inch circles.
With a fork prick each circle a couple times in the center. Then, gently press into a mini-muffin pan.
Fill with the spinach mixture.
Put in oven and bake for 20 minutes.
Serve immediately.
Here's to a good game and good eats!
For more recipes from Alicia, check out The Natural Princess or her blog, Local Food Rocks.  You can also find her on Facebook and Twitter!