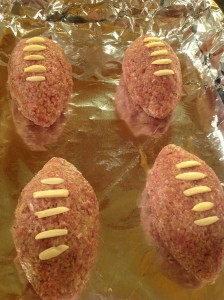 Kibbie is a traditional Lebanese meat pie made with bulgur wheat and ground lamb. I've made it a grand total of once. It's freakin' delicious. But today, in my quest for a Super Bowl worthy dish in celebration of my brothers team, I will be Baltimoring it up. Bring on the Old Bay.
Here's the recipe:
1 pound ground beef (or lamb, of course.)
1 cup of cracked bulgur wheat (Available in the bulk bins at Fairway)
2 sweet onions
½ head of purple cabbage, shredded
½ cup of sliced almonds
Old Bay, salt and pepper
First rinse the bulgur wheat well and then cover in cold water and soak for 20 minutes.
Toast almonds. Keep about 20 raw for decoration.
While that's going on skillfully grate ½ of one of the onions with your eyes closed and your head turned away without grating your knuckles.
Drain the wheat and mix with meat, grated onion, grated knuckle (if you have it, why waste it?), one teaspoon of Old Bay, two teaspoons of salt and ½ teaspoon of pepper. Mix with your hands, someone else's hands if you knuckles are still bleeding, and then add ½ cup of cold water and mix well with a heavy spoon, if you have it, until it's a smooth mixture.
Cook the rest of the onions, sliced about 1/8 inch thick, in a pan at medium heat until they start to caramelize. Add ¼ cup of the meat mixture and toasted almonds and continue to cook, breaking up the meat as you go. When the onions are caramelized and meat is cooked and crumbly turn off the heat.
Now, to form the footballs… I'm right-handed so I put a good layer of meat mixture, about ¾ inch thick, covering my left hand top-to-bottom. Then I put spoonful of the onion/almond mixture in the center. With my right hand I grabbed another glob of meat, flattened it a bit with my thumb, and set it on top of the filling. Then I pinched the meat together with my fingers to seal the filling in and formed the footballs by shaping and turning the kibbie between my cupped hands.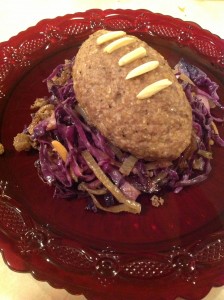 Place the kibbies in a baking dish; decorate with 5 almonds each as the stitches. Bake the kibbies (I made four) at 350 for 25 minutes. While that's going on, fry up the purple cabbage in some butter. When it's as tender as you'd like, add the remainder of the onion/almond mixture. Heat it all up and keep warm.
When the kibbie is done serve it on top of the purple and gold cabbage and onions. You may want to serve it with some sour cream (seasoned with more Old Bay) or tzatziki sauce. Maybe even BBQ sauce or a spicy marinara. I imagined it might also go well with a hot apple compote, because that would play so nicely with the spice. I'll find that out with the leftovers tomorrow night.
Happy Super Bowling! Be safe! Go Ravens!