It's that time of year again…where I use football as an excuse to be glutinous!  But Super Bowl snacks don't have to be loaded with calories to be tasty.  Here are a couple of vegan, gluten-free snacks that have lots of flavor and are good for you too.  The Chile Lime Mango and Papaya is nice surprise of sweet and spicy while the Baked Kale Chips are easy to make and are an interesting alternative to potato chips.  Enjoy!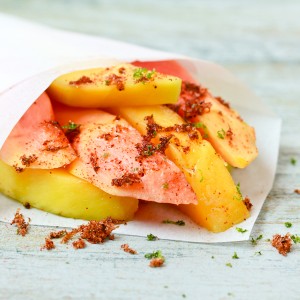 Chile Lime Mango and Papaya
Ingredients:
2 Mangoes
2 Papayas
1 tbsp. Sugar
3/4 tsp. salt
3/4 tsp. Chile powder
1 pinch of cayenne
Zest of 1 lime
Directions:
cut mangoes and papayas into thick strips
mix sugar, salt, spices in a bowl
sprinkle on top of fruit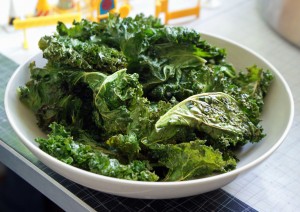 Baked Kale Chips
Ingredients:
Kale
Olive Oil
Salt
Directions:
Preheat oven to 350 degrees
Remove thick stems from leaves, wash, dry thoroughly
Place on cookie sheet, drizzle with oil, sprinkle with salt
Bake 10-15 minutes
How do you keep it healthy on Super Bowl Sunday?