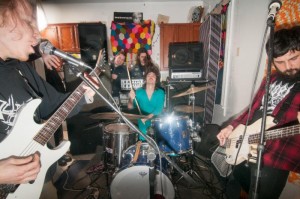 You should never underestimate the bassists, because they are usually the ones with the coolest amount of killer projects. Just look at Nate Newton. He has Converge, Doomriders, and Old Man Gloom. These are all equally good in their own ways. The bassist for this band, Kayhan Viziri, also plays for Coliseum. And judging from the music on display on this debut LP, he is now the member of two killer bands. And just like Newton, both his bands play different styles of music and do it damn well.
Where Coliseum trade in Southern gothic tinged hardcore and the louder side of indie rock, Yautja mixes a whole bunch of extreme music genres such as grind, hardcore and sludge and do it quite well.
But before I go on, it must be noted that founding members Shibby Poole (guitar/vocals) and Tyler Coburn (drums/vocals) kill with the best of them. In fact, all three combine to form a crazy-good power trio of loud rock. They have this great ability to mix up speeds and tempos without losing any of their ferocity. "Denilist" comes early on the album and is a marvel of noisy doom, with pounding drums, raw throated vocals and paint peeling guitar accents that just draw you in. "Faith Resigned" (listen here!) takes this approach even farther, getting all noisy and discordant for a portion of its running time, before finishing with a flourish.
But before you think they just want to crush you with a heavy mid-paced grind, they throw in a bunch of fast ones, to show they can kill at any speed. "Blinders" and "Concrete" go fast and for the throat taking you into grind territory, while "Tar And Blindness" mixes fast and mid-paced parts to great effect. "Chemical" ends the album with a burst of spazzy energy.
So, yes, you should never underestimate the bassist. But you also shouldn't underestimate this band. This is one release you don't want to sleep on.
Songs of Descent will be released February 11.
YAUTJA Tour Dates:
2/01/2014 Buccaneer Lounge – Memphis, TN w/ Seraphim
2/02/2014 CBGB – St. Louis, MO
2/03/2014 Dude, Where's My House – Milwaukee, WI w/ Falter, No Brainer
2/04/2014 Albion House – Chicago, IL
2/05/2014 The Precinct – Detroit, MI
2/06/2014 TBA – Pittsburgh, PA
2/07/2014 Crayola House – Harrisonburg, VA
2/08/2014 Wolf Cycles – Philadelphia, PA w/ Fantasy Panther
2/09/2014 The Acheron – Brooklyn, NY w/ Geryon, Psalm Zero, Kevin Hufnagel
2/10/2014 Roggies – Boston, MA
2/11/2014 A House – New Brunswick, NJ
2/12/2014 TBA – Baltimore, MD
2/13/2014 V.S.C. – Richmond, VA w/ Prisoner
2/14/2014 TBA – Asheville, NC w/ King Dirt
2/15/2014 WonderRoot – Atlanta, GA
2/16/2014 The Stone Fox – Nashville, TN *release show w/ Ramming Speed, Cove, Act of Impalement