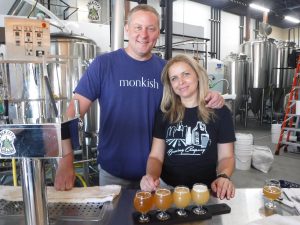 Lock City Brewing, which opened last month on Research Drive in Stamford, is founded by co-brewers Mike Bushnell and Patrick Casciolo who both share a passion for great beer. It should come as no surprise that Stamford's newest brewery is no stranger to Alternative Control. We've been eagerly anticipating their opening since we first met at Beer Conn 2015, when they were just making the transition from nano to micro brewery; they've come a long way and we've been following them like a clingy girlfriend around the beer fest circuit ever since. They were kind enough to sponsor our first Oktoberfest show at Seaside Tavern last year — Patrick was even a judge in our food contest — and now we are very pleased to give you a glimpse into their brand new brewery and the minds behind the brew.
AltCtrl: How did you first get interested in brewing beer? And how did you start brewing together?
Mike: For me it's something I've been interested in for a long time. When my wife went for her doctoral program she wasn't around so that was a perfect time for me to start brewing some beer and building my whole system and concentrating on that for the weekends. It became a real hobby, essentially we both talked and decided after making some trips to Vermont and going to some good breweries that we should put our heads together and make some beer that's comparable to what they're doing.
Patrick: I just run the brewing process, the brewing is pretty much all Mike.
AltCtrl: The brewery looks great! How has the brewing dynamic changed brewing here vs brewing at home?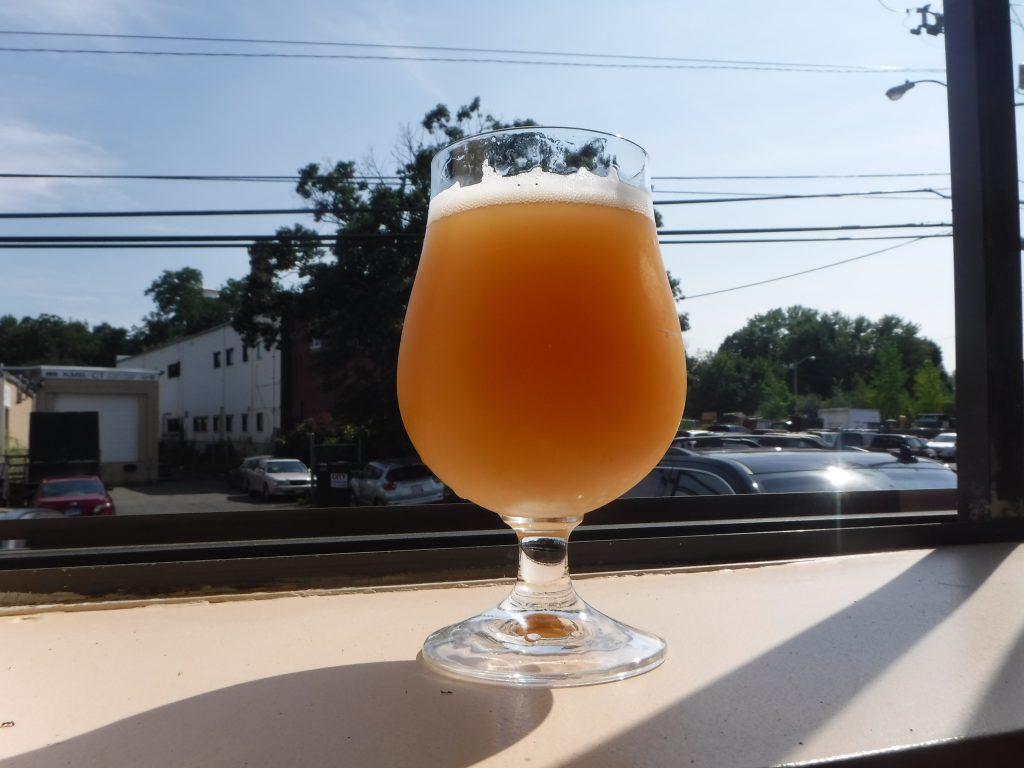 Mike: It's really the same process. It's all grain brewing, the thing that has changed is we're brewing on a lot larger scale. Things are a little bit different as far as the type of water we use, we're tweaking the reverse osmosis and blending it with city water, versus at home using all reverse osmosis, and that's because of the amount of grain we're working with in the mash. You can basically see at a small scale every kernel of crushed grain. Here it's different, the efficiencies are a bit different, more valves to turn, but I think we've figured it out and I think the beers that we've brewed here are better than the ones we were brewing at home.
Patrick: It's been a very successful transition from the small brewing system to the big.
Mike: And it helps to have a guy here that was showing us the ropes as far as the larger scale, Leo Bongiorno. He was here for our first beer and showing us now turn this valve, turn the pump down, turn the pump up, he was a huge help in setting up the brewing process. You're working with more equipment essentially.
AltCtrl: Tell us about the process of building out the new location…
Mike: Building out the new location was kind of a real pain in the… The building department took 6 months to get approval on every little aspect. Working with the contractors was the easiest part of it. Getting out licensing was not as difficult as what everybody seemed to make of it, but every town has their different hurdles. Our largest hang up wasn't really with the building portion of it, it was getting our equipment in the door. The manufacturer did not cooperate, took about a year to get the equipment in the door. And then when the equipment came in the insides of the tanks weren't finished so we had another 3 week delay. So it was delay after delay with the manufacturer. So as slow as building the space out was we still had plenty of time because we were waiting forever for our equipment. It's still an ongoing battle.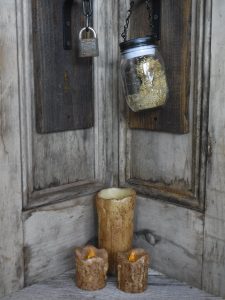 AltCtrl: What are your favorite styles of beer?
Mike: Plain and simple: IPA
Patrick: New England-style IPA
Mike: We do like some porters and stouts, but hop-forward IPAs
AltCtrl: Where do you get your brewing inspiration?
Mike: I mean, we have all these cans that are sitting up on our wall here..
Patrick: Had to be Alchemist, gotta give them credit.
Mike: Alchemist probably started it, and I would say even New England Brewing Co, cause we were drinking a lot of New England at that time. And if you look today I think a lot of inspiration comes from breweries out in California that are making great New England-style IPAs, Monkish for example their Foggier Window, it seems like they can't go wrong over there. So far we feel like they're setting the bar. Them, Hill Farmstead, Treehouse, Trillium, Vail, that's the bar and we hold our product up to that bar, that's where we want to be.
AltCtrl: You just mentioned a lot of my favorites breweries too. Monkish I haven't had a chance to try yet but I've been hearing a lot about them.
Patrick: Because you've gotta give an arm and a leg to get one beer. They only produce about 100 cases at a time.
AltCtrl: What are Lock City Brewing's core values when it comes to brewing?
Mike: Essentially making great beer that people are gonna love. It's process driven, making sure we have the same process every time we brew a beer. For us, a major value is the beer has to be excellent. Anything less than really good or excellent and its gotta go down the drain. We're hoping to be that brewery in Stamford where people don't have to drive 2, 4, 5 hours one way to get to a really really outstanding brewery.
Patrick: And ultimately get the people to drive 2, 4, 5 hours to come here.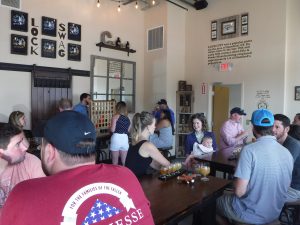 AltCtrl: For those who don't know, what does Stamford have to do with 'locks'?
Mike: Yale Towne Lock Manufacturing employed 25% of Stamford's population from the late 1800s up through about 1950. Some people say it's more, some people say it's 50% of Stamford's population, and because of that they called Stamford the Lock City so we're trying to bring some history back to Stamford.
AltCtrl: Your artwork and names are very fun, how do you go about naming/branding a new beer?
Mike: Basically we'll take the beer, OJ on Parole for example, when we tasted it we were very impressed with the orange juice qualities it had to it. We knew that OJ (Simpson) was going up for his parole hearing the following day so we should sit in front of the TV tomorrow to see what happens cause if he makes parole we're gonna call this OJ on Parole. Everything really is taste first.
Patrick: We like to try to incorporate a "lock" kind of name, or wresting, anything where Stamford has some kind of history with it.
AltCtrl: The New England-style IPA is all the rage now and your initial beer lineup is very IPA heavy. Believe me there's no complaints here, but curious to hear what other styles we can expect to see in the future?
Mike: We have our coffee brown ale that came out last week, people seem to really enjoy that. We have the blonde ale today, you're gonna see some porters and stouts come out. We got our imperial pumpkin ale that's gonna be coming out in the next few weeks. We're gonna have seasonal beers, a few styles, but we're gonna try to always remain IPA heavy.
AltCtrl: What's the hardest part about brewing IPAs in particular? And what's your favorite part?
Mike: In general the hardest part is the waiting around and the cleaning. The hooking up, cleaning, and waiting for processes to finish. Favorite part is dumping those hops in, pitching the yeast, the finishing touches of making these beers.
Patrick: Troubleshooting equipment… Very first batch of beer we turn the grain mill on, pour the grain in, the thing doesn't work. Then we're taking it apart for hours.
AltCtrl: What types of hops and grains do you use mostly?
Mike: For our base malts we use a lot of Rahr pell, pale malt, Thomas Fawcett Pearl, Thomas Fawcett Golden Promise. We're not sold on any one base malt but Thomas Fawcett to me is something that's not replaceable. I think it makes some of the best beers that we make in this brewery and even when I was home brewing. The hops that I like to use are Mosaic and Galaxy. Galaxy is probably my favorite, and I love Mosaic single hop beers.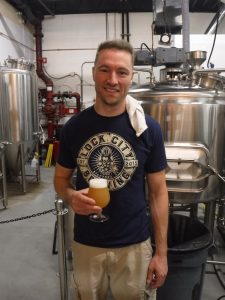 AltCtrl: Any plans to can or bottle on the horizon? Your artwork is fantastic and is sure to be a hit at releases and on the shelves!
Patrick: We'd be doing it yesterday if we could.
Mike: We have slightly different views as far as canning, we don't want to do any bottling we agree on that. My view is that hopefully we can start canning in the fall, and his view is a year from now we'll be canning. When the time comes and we've had a chance to brew our beers a number of times.
Patrick: Canning is definitely in the future, I think you have to can.
AltCtrl: Where can one find Lock City on tap?
Mike: Coalhouse Pizza will pretty much have a dedicated line of our beer.
Patrick: Here and local bars, check your Untapped and Beer Menus. Soon we'll be up above New Haven.
Lock City Brewing is located on Research Drive in Stamford, CT and is open Thursday and Friday nights from 5-9 and Saturdays from 12-7. Be sure to stop on down for a pint or flight — and even bring some home in a growler! If you are a fan of craft beer, you will not be disappointed! We will also be featuring Lock City on tap at Seaside Tavern on September 30th for our 2nd Annual Oktoberfest show.
Johnny Pluckman goes far and wide in search of the best music and beer coverage.  Check out more of his intrepid reporting here.
For more from Alternative Control, find us on Facebook, Twitter, Instagram, Soundcloud, and bandcamp.