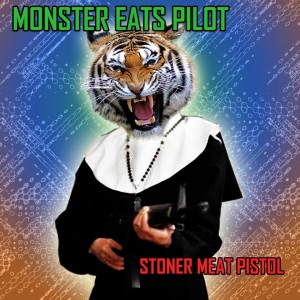 Do you like Weezer? Do you like not being a loser? Then you need to listen to Monster Eats Pilot's new full-length, Stoner Meat Pistol. The New Haven rock band features Dan Verner on guitar, Marc Allen on bass, and Simon Tuozolli on drums, with all three members contributing vocals. Their album release show is on March 21st at The Trinity in New Haven.
The opening track, "A Bird Named Sylvie," is the song that instantly reminded me of days spent laying on my bedroom floor listening to The Blue Album on repeat. That track isn't public yet, but "Confidently Self-Aware" also has some 90s alternative sensibilities: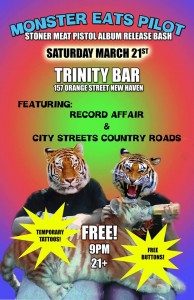 It's not all dorky haircuts and thick-framed glasses, though. "Lemon Tree" and "Kite String Parachute" have a tougher grunge edge, and other songs that sound happy have surprisingly dark lyrics — like "Poison Ivy Morning Tea," that bumps along gaily to the words, "Throwin' acid in your face, barracudas in your tub / I will hold you down until you can't breathe." Thanks for that.
Stoner Meat Pistol was recorded at Simon's studio, UP Recording. The band chose not to use pitch correction and the vocals still came out quite well considering, but it's not a punk aesthetic I would adopt for my own band. (Simon knows this, he recorded us.) You have plenty of bar shows to sing not-perfectly, so why not fix the occasional note here and there?
Overall, Stoner Meat Pistol is a worthwhile listen for indie rock fans; it manages to be lighthearted without falling into the bland dopiness of so many bands of this genre that try to get reviews on Alternative Control. (Sorry bro, ain't happening.) I would totally go to the album release party if Baldwin and I weren't seeing Enslaved and YOB that day — but YOU should go and bob your head for me.