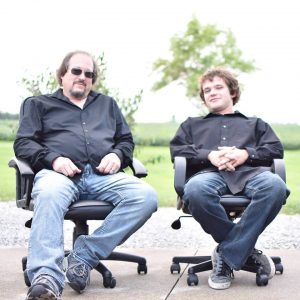 Indiana rock duo Outerfield is set to release their debut album Pleasant Grove Hotel on May 3rd.  Fans of 90s-style indie/grunge will find something to enjoy on this eleven-track offering.  My personal favorite is the irreverent, slightly goofy "Vending Machine."
Matt Hutson and Gary Schrader share guitar and bass duties on the album, with Hutson also contributing keyboard instruments and vocals.  They get up close and personal with fans in the video for "Dust," where they reveal that they are… Two dudes playing music in their yard.  Who also purchase coffee at drive-thrus.  But aren't we all just two dudes playing music in our yards?  Or two dudes and a chick playing music in a basement?  Wait, I'm not supposed to refer to women as "chicks," the younger millennials will crucify me on the internet.  Anyhow…
The band says of Pleasant Grove Hotel, "The album is about the space it takes to put your life back together after everything has fallen apart. Not unlike the experience of making the record, which was shelved for four months and expected to never come out."  I got news for ya, bros, four months isn't that long — but I'm glad that Humpty Dumpty was reassembled in this case and that the album gets to see the light of day.  Keep rocking!
For more from Alternative Control, find us on Facebook, Twitter, Instagram, Soundcloud, and bandcamp.
This post was sponsored by Independent Music Promotions.  All opinions are our own.