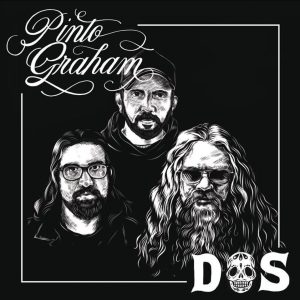 Southern rock in Yankee Doodle Connecticut?  Pinto Graham does it the best, but if you consider that one member hails from Florida and another from the actual Southern Hemisphere, these boys have some geography to back up their sentiment.  Their aptly titled sophomore album Dos comes out July 12th; old fans will love this new offering, and it will win over anyone who's on the fence.
Don't get me wrong — I like Uno, I bought it, and it got me into the band.  The track "High Flyer" was part of the Volume Doom compilation.  (Although I'm pissed that Pinto never plays "The Gambler" at shows!  That's my favorite song off Uno.  I guess it became their equivalent of "Free Bird," though.)  But Dos shows a definite progression and streamlining of focus; whereas Uno was ten tracks, Dos serves up six slabs of punchy, bluesy grit.  If Uno was a Sunday cruise in a classic Cadillac, Dos flies ninety miles per hour on a Harley down the double yellow line.
Most of the songs are fast-paced, hence the badass motorcycle feel.  "Southern Superstitions" stands apart, however, with a slower tempo and breathtaking backing vocals from Atrina vocalist Kelly Le'Heureux — when you hear them, you'll look up from your computer.  Stream that tune below and pre-order Dos today…  You won't be disappointed.
Upcoming Shows
5/3/19 @ Altones in Jewett City, CT — New England Stoner & Doom Festival
7/6/19 @ Cherry Street Station in Wallingford, CT
7/12/19 @ Cherry Street Station in Wallingford, CT
11/9/19 @ Thrasher-Home Center in Orange Park, FL — Help Somebody Benefit Concert ft. 38 Special
Connect with Pinto Graham
For more from Alternative Control, find us on Facebook, Twitter, Instagram, Youtube, Soundcloud, and bandcamp.